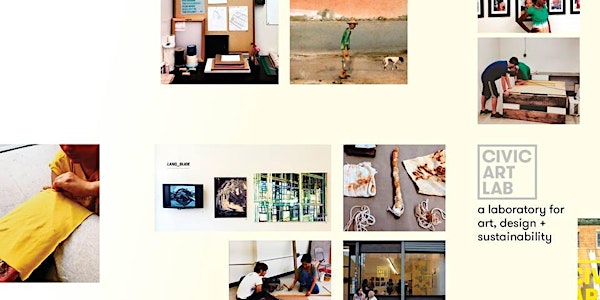 Civic Art Lab 2022: Spaces | Sustainability and Design Lab
Join us for our 8th annual Civic Art Lab, Nov 5-6! This year's hybrid sustainability, design, & art lab will feature talks and tours
When and where
Location
Saturday's talks are virtual. Sunday events are held in person throughout NYC, please wear comfortable shoes and bring water. 726 broadway New York, NY 10002
Refund Policy
Refunds up to 30 days before event
Eventbrite's fee is nonrefundable.
About this event
Civic Art Lab 2022
We are pleased to announce our 8th annual Civic Art Lab. This year's Civic Art Lab explores the notion of contested spaces through the lens of sustainability, creative placemaking and placekeeping. As it pertains to this year's theme, a contested space can be a site of resistance, social activism, art, urban design, remembrance, and more. Many ephemeral sites of environmental and social movements have grown into brick-and-mortar community gathering places, public green spaces, safe spaces, and sustained places of protest. In a global political climate that increasingly disregards the urgency of sustainability and humanitarian challenges, Civic Art Lab 2022's two-day lab incorporates virtual presentations and in-person NYC-based tours of locations at the center and margins of community-driven sustainability and action. Civic Art Lab is a pop-up gallery and workshop space, hosted by GreenspaceNYC. This year's lab will be held in a hybrid format.
Saturday, November 5th, Civic Art Lab Day 1 (Virtual)
The Zoom link will be circulated a week before the lab.
11:00 am Welcome Laura Scherling, Jeff Kasper, Yasmeen Abdallah, Daniel Horn, and Shannon Finnell
11:20 am Sound Your Truth Andrea Frank and Joshua Korenblat
Based in the Hudson Valley, Eddy is an evolving, open, trans-disciplinary, co-creative, and embodied learning lab. In a space where Black voices had not been heard or consulted, Eddy initiated a living experience to honor individual truth, creativity, and community values. 
11:40 am Water School Simone Johnson
Exploring an interdisciplinary artist and researcher's practice and the water school she started last summer. Additionally examines local and global water work and other water schools. 
12 pm The Night Market: Bike-powered Food Recovery Parties Ernst Bertone Oehninger, Sabrina Denton, Ania Kawiecki, and Valerie Weinborn 
The Night Market is an environmentally sustainable community-based food recovery organization. We recover both cooked and non-perishable excess food, and redistribute to the community in a stigma-free environment (no questions asked). 
12:20 pm Tools for Mental Mapping Emily Garfield
This talk encourages participants to think of maps as more about our internal spaces and decisions than about objective geography. Learn to use mapping tools to represent interior spaces, and come away with tools to transform the lab's tours into hand-drawn maps.
12:40 pm Ancient Futures Nicole Messier & Victoria Manganiello 
Technical methods in weaving, knitting, sewing, are able to hide and deliver sensitive details and encode important messages with a visual language that all humans are intimately familiar with. 'Ancient Futures' is a multi-layered woven textile and participatory media installation, capturing sonic textures and creating an evolving fabric of soundscape. 
1:00 pm Building Community and Placemaking Through Art Yasmeen Abdallah 
Art can be a powerful tool in connecting people across geological, linguistic, and ideological divides. Its visually rich vocabulary bridges the past and present, and its physicality beckons viewers in a distinct and profound way. Art can transport people to other realms, or root them front and center to see the world in an entirely new way. How can the artist serve as a facilitator for implementing the changes they hope to see?
1:20 pm Digital Queer Ecologies: SWERVE Anna Nazo, Natalia Esteve, Sam Chester, and Casa Copal 
This talk will include an overview of the 'Digital Queer Ecologies: SWERVE' project, undertaken collaboratively by London-based international queer-feminine artists (Anna Nazo, Natalia Esteve, Sam Chester) and Mexican indigenous art collective (Casa Copal).
1:40 pm Holding Space and Creating Living Archives Whitney Mashburn
This talk presents Holding Space Archive as a jumping off point to discuss intentionally creating archives to account for our own marginalized experiences and histories which fall outside the traditional canon of art history. Besides Holding Space, examples of living archives will be shared, such as Chris Vargas' MOTHA (Museum of Trans Herstory), and Alice Wong and Disability Visibility, as well as a selection of Carmen Papalia's community-written Open Access tenets. 
2:00 pm Gardens of Disruptions Tanika Williams
Gardens of Disruptions investigates the impact of immigration on indigenous biology. The experiment positions human beings as invasive species and plants as sentient life forms to imagine the relationship between the migratory patterns of plants and people. 
2:20 pm Exploring Else Spaces Maria Susan Guarino
This interactive talk will introduce participants to the ElseSpace and invite them imagine their own. Through this reimagining, and sitting with our discomforts, we can begin to form spaces of individual and collective resistance. 
2:40 pm Speculative Spaces Nishra Ranpura 
What would the planet's landscape look like with rivers, mountains, machines, and other biotic or abiotic beings getting the same rights as humans? This talk critically inquires about the future that we are building.
Sunday,  November 6th, Civic Art Lab Day 2
Somebody from the Civic Art Lab team will serve as an additional guide on your downtown or uptown tour.
Uptown Manhattan Group 
Sunday 1 pm (Tour begins at MCNY, at 1220 Fifth Avenue)
The Activist Tour Museum of the City of New York
 In a town renowned for its in-your-face persona, New Yorkers have banded together on issues as diverse as civil rights, wages, sexual orientation, and religious freedom. Using artifacts, photographs, audio and visual presentations, as well as interactive components that seek to tell the story of activism in the five boroughs past and present, Activist New York presents the passions and conflicts that underlie the city's history of agitation.
Sunday 3pm 
Workshop To Be Announced Shortly 
Downtown Manhattan Group
Sunday 1 pm (Tour begins at City Hall Park at Broadway & Chambers Street)
Unsettling Streets: Policing Public Space in NYC Rebecca Manski, Social Justice Walks 
Walking south from the jails and courthouses surrounding Chinatown's Columbus Park, through the plazas of justice infrastructure centered around Centre Street and Foley Square, and looking across to the FBI and the USCIS, we'll begin to connect the dots. And we'll trace the connections between "urban renewal", park redesign in response to mobilizations, and changing laws regarding public assembly over time.
Sunday  3pm After Much Meandering Erin Turner and EunWoo Nam
After much meandering is a writing and walking workshop that culminates with a group written story of origin that will be recorded and edited into a sound piece. Through anthropomorphic writing prompts and dialogues, participants are lead to generate a cosmology of the space where they walk. The prompts ask participants to create vital relationships with their surrounding environment and breath life into inanimate objects.
Downtown Manhattan Reception & Artist Talk
Sunday  5:15 pm Reception and talk takes place at Boho Karaoke 186 West 4th Street, 21+ w/ IDKaroake Regulars Shannon FinnellKaraoke Regulars is a body of work exploring the world of karaoke in New York City, a deep community of people with a love of singing in front of strangers. For some, this singing space is only that – a fun team building activity. For regulars, it's a necessity. It's where people process big life feelings, where my chosen family shows up, where to find support in this big city. 
Civic Art Lab is hosted by GreenspaceNYC (www.greenspacenyc.org), a non-profit collaborative that develops and curates free educational programming, hands-on workshops, and public design projects that encourage dialogue, enliven public spaces, and promote the future of more equitable and sustainable cities. Past workshops, exhibitions, and events have been held at Parsons School of Design, the New Museum, IDC w/ Sesame Workshop, and more. 
Co-Directors & Founders / GREENSPACENYC + Civic Art Lab: Laura Scherling, Jeff Kasper  Organizers: Dan Horn, Leonel Ponce, Yasmeen Abdallah  Sponsors: Material for the Arts (NYC Office of Cultural Affairs), ORLI+, Fractured Atlas
Questions? Contact: Laura, lss2165@tc.columbia.edu