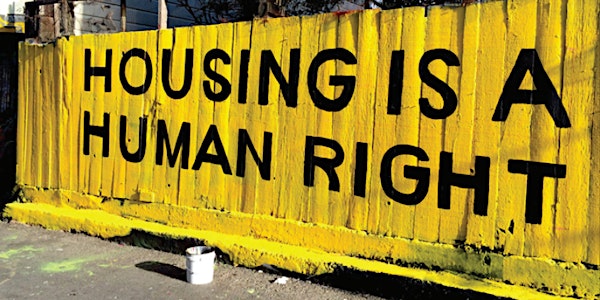 Citywide Convergence Against Displacement
When and where
Location
Mayday Community Space 176 St Nicholas Ave Brooklyn, NY 11237
Refund Policy
Contact the organizer to request a refund.
Description
--abajo en español--

The affordability crisis in NYC is extreme as landlords and real estate developers make huge profits while pushing us out of our homes and neighborhoods. Although there are dozens of amazing local groups and citywide coalitions fighting displacement, our campaigns and our communities can feel isolated from one another.

Join housing justice organizers, anti-displacement activists and tenant leaders from across NYC for a 5-hour convergence to share best practices from the frontlines, build community over food, and draw from our collective creativity to broaden the movement.

--interactive agenda includes--
DEEP THOUGHTS - Spectrum exercise to address critical questions facing the movement

against displacement.

MAPPING THE MOVEMENT - Collectively visualizing all the organizations and coalitions leading the fight and where there are gaps and opportunities for more collaboration.

SPEED-DATING - Meet 6 groups with unique organizing models as we rotate around the space and share stories and successful approaches.

BREAKOUT TRAININGS & STRATEGY SESSIONS - Learn how to organize your building, win community demands thru rezoning fights, use arts and media to expand your reach, bone up on the basics of tenants rights, and plan locally for the upcoming National Renters Day of Action (Sept. 22nd).

COMMUNAL DINNER - Enjoy a meal prepared by the Mayday Kitchen Collective and the company of your colleagues and comrades.

OUR VISION FOR GOING VIRAL - Closeout conversation on how to take the fight against displacement, particularly in low-income and POC communities, to the next level.

AFTER-PARTY - Details TBA!
----------------------

REGISTER ON THIS PAGE TO GUARANTEE YOUR SPOT

CHILDCARE + SPANISH INTERPRETATION AVAILABLE UPON REQUEST: Please indicate needs when registering, including age of children. Number of interpretation headsets limited.

VOLUNTEER: When registering sign-up for volunteer roles or contact Mayday at info@maydayspace.org if you or your organization want to pitch any ideas for this event.

ABOUT EVENT HOST LOCATION: Mayday Community Space is a new social justice organizing hub for local Bushwick residents and movements citywide. The 3-story shared building is an open space for groups to host their events and also home to a number of organizing projects.

DIRECTIONS: Take the L train to the Dekalb stop exiting at the intersection of Wyckoff Ave and Stanhope St. Walk against traffic on Stanhope and take a right one block up at St. Nicholas Ave.

ACCESSIBILITY: The shared building is old and does not have an elevator. Most activities will be in the 3rd floor Great Hall. There are gender-neutral bathrooms with stalls that are not ADA-compliant.

SUGGESTED DONATION: We are asking for a $10-20 suggested donation to cover event expenses (including communal dinner), but no one is turned away for lack of funds.

==========
en español
==========

CONVERGENCIA de toda le ciudad CONTRA el DESPLAZAMIENTO

La crisis de asequibilidad en Nueva York es extrema ya que los caseros y desarrolladores de vivienda tienen enormes ganancias, y al mismo tiempo provocan nuestro desplazamiento de nuestros hogares y vecindarios.

Aunque hay docenas de grupos sorprendentes locales y coaliciones a nivel de toda la ciudad que luchan contra el desplazamiento, nuestras campañas y nuestras comunidades se pueden sentir aislados los unos de los otros.

Únete a organizadores comunitarios de justicia en vivienda, activistas de anti-desplazamiento e inquilinos líderes de toda la ciudad de Nueva York para esta convergencia de 5 horas. Compartiremos mejores prácticas, construiremos comunidad al comer juntos, y sacaremos provecho de nuestra creatividad colectiva para ampliar el movimiento.

La agenda interactiva incluye:

PENSAMIENTOS PROFUNDOS- ejercicio de espectros para abordar cuestiones críticas que enfrenta el movimiento contra el desplazamiento.

MAPEO del MOVIMIENTO - Colectivamente visualizar todas las organizaciones y coaliciones que lideran la lucha y donde hay espacio y oportunidades para una mayor colaboración.

CITAS RÁPIDAS- 6 grupos compartirán sus modelos únicos de organización a medida que giran alrededor del espacio compartiendo historias de acciones y enfoques exitosos.

GRUPOS DE ENTRENAMIENTOS Y SESIONES DE ESTRATEGIA - Aprende a organizar tu edificio, ganar demandas para la comunidad a través de los campañas de rezonificación, el utilizar artes y los medios de comunicación para ampliar su alcance, ponerse al tanto sobre los fundamentos de los derechos de los inquilinos, y aprender más sobre el plan local para el próximo Día Nacional de Acción de los Inquilinos ( 22 de septiembre de 2016).

CENA COMUNITARIA - disfruta de una comida preparada por el Colectivo de Cocina Mayday en compañía de tus colegas y compañerxs de lucha.

NUESTRA VISIÓN PARA IR VIRAL - Cierre de la conversación sobre la manera de llevar la lucha contra el desplazamiento, especialmente en las comunidades de bajos ingresos y personas de color, al siguiente nivel.

FIESTA! - se anunciaran los detalles!
----------------------

PARA GARANTIZAR SU LUGAR REGISTRE EN ESTA PAGINA
VOLUNTARIOS: Cuando se registren elijan funciones de voluntarios o contacten a MayDay a info@maydayspace.org, si tu o tu organización desea compartir algunas ideas para este evento.

SE OFRECE CUIDADO DE NIÑXS y INTERPRETACIÓN AL ESPAÑOL: Cuando se registra, favor de avisarnos las edades de lxs niñxs o si se nececita interpretacion (aparatos limitados).

ACERCA DEL ANFITRIÓN DEL EVENTO: Mayday Space es un nuevo eje de organización social para la justicia local de residentes de Bushwick y movimientos de toda la ciudad. El edificio compartido en 3 pisos es un espacio abierto para que grupos tengan sus eventos y MayDay space también es el hogar de una serie de proyectos organizativos.

DIRECCIONES: Toma el tren L a Dekalb, salir en la intersección de Wyckoff Ave y Stanhope St. Camine contra el tráfico de Stanhope y gire a la derecha una cuadra hacia San Nicolás Ave.

ACCESIBILIDAD: El edificio compartido es viejo y no tiene ascensor. La mayoría de las actividades serán en el Gran Salón del 3 ° piso. Hay baños de género neutro.

DONACIÓN SUGERIDA: Estamos pidiendo una donación sugerida de $ 10-20 para cubrir los gastos del evento (incluyendo la cena en grupo), pero no se rechaza a nadie por falta de fondos.