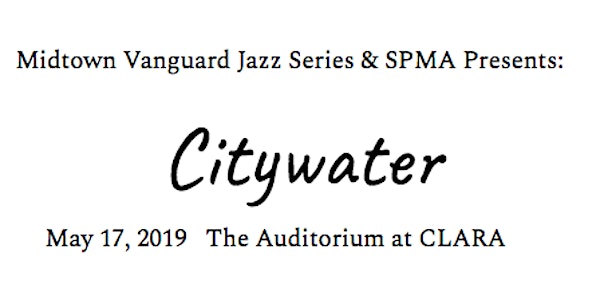 CITYWATER
When and where
Location
The Auditorium at CLARA 1425 24th Street SACRAMENTO, CALIFORNIA 95816
Description
MIDTOWN VANGUARD JAZZ SERIES at CLARA & SPMA
PROUDLY PRESENTS, "A ONE-OFF EVENT"
CITYWATER
DOORS AT 6:30PM, SHOW STARTS AT 7:00 PM: Friday May 17, 2019.
---
Citywater is:
Cathie Apple, flutes
Milun Doskavic, clarinets
Amy Lindsay, violin
Timothy Stanley, cello
Jennifer Reason, piano
Ben Prima, percussion
---


Join us for an exciting evening of chamber music premiers!
All of the music to be performed is being heard for the very first time in Sacramento.
We're featuring a host of music from all across America's fascinating compositional diversity.
We're playing music from the Landscape Music Composers Network, featuring performances of works by Nell Shaw Cohen, Christina Rusnak and Linda Chase, as well as local composer and LMC member, Ryan Suliman.
http://landscapemusic.org
.
Each of these pieces are from Citywater's recent collaborations celebrating the fiftieth anniversary in 2018 of the Scenic Rivers and Trails act. Each performance features images from the river or trail that served as inspiration for the music.
We're also premiering a brand new work by Griffin Candey. Mr. Candey's music is garnering critical acclaim and audience attention nation-wide, and Citywater is very
excited
to premier his newest chamber piece!
---
CITYWATER is a part of our "One-Off" Artist Series at Midtown Vanguard Jazz Series,
The music they perfrom represents the roots of Vanguard, in the concepts and colors their music embodies. MVJ is proud to present this fine group of musicians, some of the very best in our Sacramento region and beyond. We do sincerly wish for our MVJ Patrons to step out from our regular Sunday Schedule and come to see CITYWATER on what is bound to be a stellar
Friday

night of Music.



---
More About Midtown Vanguard Jazz Series at CLARA & Sacramento Preparatory Music Academy.
Drawing its title from The Village Vanguard in (NYC), who booked jazz legends like

Miles Davis, Horace Silver, Thelonious Monk, Gerry Mulligan, the Modern Jazz Quartet, Jimmy Giuffre,
Sonny Rollins, Anita O'Day, Charlie Mingus, Bill Evans (a regular), & Stan Getz...
The term "Vanguard," represents a group of people leading the way in new developments or ideas. The Music presented at MVJ reflects these legends and this concept.
Hosted by:
Sacramento Preparatory Music Academy (SPMA)
A 501C3 Nonprofit Organization
Sac Prep Music Academy
MISSION is to support and advance access to lifelong learning opportunities in music arts education.
VISION is To create an environment where students and performing artists can meet for the study of music arts education, performance and related art forms.
PURPOSE is to present public performances and recitals of music and related art forms; To sponsor lecture-demonstrations of topics related to music education and related art forms & To increase community awareness of the importance of artistic expression for individual satisfaction and growth, and the wide variety of expression available through music arts.
The Auditorium at CLARA
1425 24th St, Sacramento, CA 95816
MVJ regularly operates on 2nd and 4th Sundays of the month, year round.
BECOME A SPONSOR AT MVJ
Midtown Vanguard Jazz Series prints Full-Color Playbills four times during the year; one for each quarter of the year. Ad space in the Playbill is awarded to MVJ Sponsors. MVJ Artists and patrons can help in getting the word out to local business owners & other patrons of the arts, who support the concept of Midtown Vanguard Jazz Series. It is very essential for the continuation and sustainability of Sac Prep Music Academy's efforts towards maintaining MVJ as the Artist Series it is intended to be.
Thank you for your support!