City/Source Manufacturers Trade Show

Thursday, July 18, 2019 from 10:00 AM to 5:30 PM (EDT)
Event Details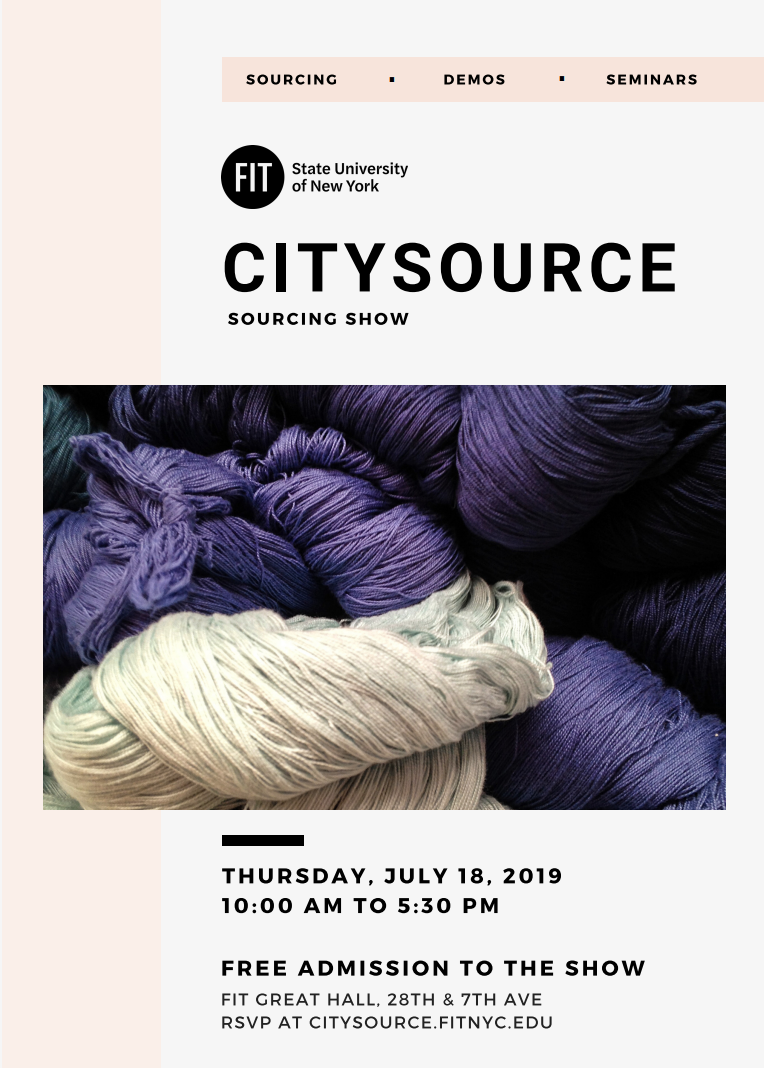 City Source is a bi-annual tradeshow that connects designers and small businesses with local resources held at the Fashion Institute of Technology.
Each year, the event brings in 60+ vendors including  Pattern and Samples Makers, Production Contractors, Marking and Grading, Cutting, Printers, Pleating, Embroidery, Dyeing, Accessories, and Trims, Fabrics and Leather, Knitters, Design Services.


SEMINARS: $10.00 each 45 minutes
10:30 AM to 11:15 AM: Brand Storytelling, Melissa Hall founder of The Emerging Designer 
Seminar Description: Now more than ever, storytelling is an important part of brand building. Consumers are seeking transparency and want to know how products are sourced and manufactured. In this seminar, attendees will learn how to approach storytelling for their own brand, how to leverage their production process and get inspired by brands in the marketplace that are cleverly communicating with their audience. 
Speaker Bio: Melissa Hall is a New York-based brand strategy consultant and founder of The Emerging Designer, a New York-based network that helps designers and creative professionals bridge the gap between business and creativity. She has built a community of hundreds of fashion brands, organizations, manufacturers, and retailers. She is an instructor at the Fashion Institute of Technology (FIT) working with entrepreneurs and consultant for Design Entrepreneurs NYC, a mini-MBA program for top emerging fashion companies.
---
 
11:30 PM to 12:30 PM: 21st Century Fashion Design,  James Pearce and Jeremy White of FIT (Mini Tech Kit included) of fitnyc.edu
Seminar Description: The future of fashion is interactivity! From responsive LED lights and luminous threads to touch sensitive garments, interactive fashion is moving onto the runway and into our closets. Learn how you can add tech to your creative tool kit with this hands-on introduction to the technology that allows designers to incorporate responsive elements into their future fashion projects. 
---
 1:45 PM to 2:30 PM: Best Production Practices, Jene Sefeniak, Founder of StitchLuxe
Seminar Description:  Understanding how your factory works is key to a successful relationship with your factory. Learn how to work with your factory to take your designs from concept all the way through to production. From patterns to the language used, you will be a master of communication after taking this short seminar.
Speaker Bio: Jené has been working in the luxury fashion industry for a decade. She began her career studying tailoring on Savile Row and then working for couturier Bruce Oldfield in London. In New York, she has specialized in luxury product development and production. She owns and operates a studio that makes luxury level patterns and samples for a wide range of clients - from emerging designers to well-established brands. She has a combined 13 seasons working backstage at fashion week in both New York and London and teaches in two certificate programs at FIT.
---
 3:15 PM to 4:15 PM: Fiber to Fabric, Sara Mosley of Huber of Power Corp/ Adjunct Professor, Textile Department, Jefferson University (formerly Philadelphia University)
Seminar Description: Have you wanted to have a better understanding of the differences in selecting a woven fabric versus a knit fabric for your designs?  Or why polyester over cotton fiber content? Then this seminar is for you! We will cover the basic differences in fibers and the benefits of one type over another.  Is natural always better than manmade?  A cram course in yarns, fabric constructions, different finishes and how sustainable practices are becoming the norm in fabric formation.  Leave this seminar armed with the knowledge to make a more informed selection when you're sourcing fabrics/trims for your end-use!
Speaker Bio: Sara Mosley is a sales and product development consultant with over twenty-five years of progressive experience in the textile industry.  She spent most of her career in textile and finished product design at Burlington Industries & Dan River.  Knowledge of industry trends and applying technical design to fabric & product development led to consulting opportunities with Indian and Turkish textile manufacturers.  Currently, she works with Huber Power Corp, the publisher of AboutSources Designer's & Sourcer's Guides.  Her creativity extends to designing a line of handmade jewelry.  Sara also combines her practical industry experience and love of textiles as a professor at Jefferson (Philadelphia Univiversity+Thomas Jefferson University).
---

DEMOS- FREE 30 Minutes
11:30 AM to 12:00 PM- Social Selling with Shoppable Video Mobile Commerce: Quick Click to Cart Increases Sales
12:45 PM to 1:15 PM-  Reducing Waste Through Your Supply Chain
2:30 PM to 3:00 PM-  Flower Making Technics
When & Where

Fashion Institute of Technology
John Reeves Great Hall
West 28th Street
New York, NY 10001


Thursday, July 18, 2019 from 10:00 AM to 5:30 PM (EDT)
Add to my calendar