Description
CityLit welcomes you to a very special event, as we honor poet, educator and New York Times bestselling children's author Kwame Alexander with our Chic Dambach Award for Service to the Literary Arts. The evening will feature lite fare, cash bar (first drink free!), jazz and entertainment, including a reading by Kwame, and takes place on Thursday, September 13, 2018, from 6:30 to 8:30 pm at the Motor House, 120 W. North Avenue in Baltimore.
Tickets are available on a sliding scale, from $15 to $100, through Eventbrite. Tickets purchased at the $100 level will receive (after publication in October) a signed copy of Kwame's latest book Swing, where Kwame and co-author Mary Rand Hess tell a lyrical story about hope, courage, and love that will speak to anyone who's struggled to find their voice.
All proceeds benefit CityLit Project, a 501(c)(3) literary non-profit organization based in Baltimore. Since 2004, CityLit Project "nurtures the culture of literature in Baltimore and throughout Maryland. CityLit creates enthusiasm for the literary arts, connects a community of avid readers and writers, and opens opportunities for young people and diverse audiences to embrace the literary arts." CityLit is noted for its two signature events, the CityLit Stage at the Baltimore Book Festival and the day-long CityLit Festival each spring.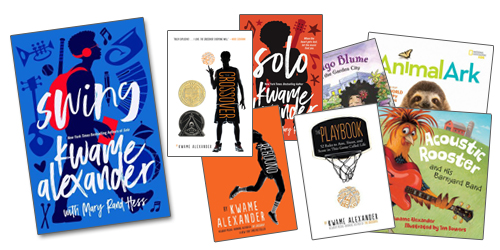 Kwame Alexander is the author of 28 books, including Swing, Solo, and Rebound the follow-up to his Newbery medal-winning middle-grade novel, The Crossover. A regular contributor to NPR's Morning Edition, Kwame is the recipient of numerous prestigious awards, including The Coretta Scott King Author Honor, three NAACP Image Award Nominations, and the 2017 Inaugural Pat Conroy Legacy Award. He believes poetry can change the world, and he uses it to inspire and empower young people around the world through The Write Thing, his K-12 Writing Workshop. The 2018 NEA Read Across America Ambassador, Kwame is the founder of Versify, a new imprint of Houghton Mifflin Harcourt, and the host and producer of the literary variety/talk show, Bookish, which airs on Facebook Watch. He's led cultural exchange delegations to Brazil, Italy, Singapore, and Ghana, where he built the Barbara E. Alexander Memorial Library and Health Clinic, as a part of Leap for Ghana, an international literacy program he co-founded.
Among his connections to Baltimore, Kwame is also a past Board Member of the CityLit Project.
The Dambach Award for Service to the Literary Arts is named in honor of CityLit Founding Board Chair Charles (Chic) Dambach, whose wide-ranging career includes President of the Alliance for Peacebuilding, President of the National Peace Corps Association, and Chief of Staff for Congressman John Garamendi. Together with Peter Yarrow, he led the Operation Respect program to address bullying, ridicule, and violence in schools. His memoir, Exhaust the Limits, the Life and Times of a Global Peacebuilder, features a lifetime of service and successful initiatives for peace. He is a Woodrow Wilson Visiting Fellow and adjunct faculty at both Johns Hopkins University and American University.