Description
Oakland is our city so its future is up to us. CityCamp is a partnership between OpenOakland, the City of Oakland and the Oakland Public Ethics Commission.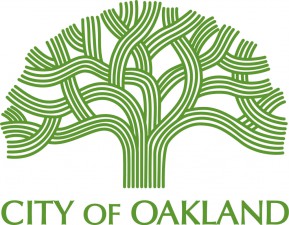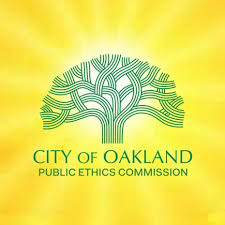 CityCamp will be held at Oakland's historic City Hall to share ideas on how to improve local government. This is a space for Oakland non-profits and community organizations to collaborate on ways to tackle Oakland's most pressing issues.
Everyone is welcome at this free event.

Our goals:
Bring together residents, young people, students, community leaders, local government officials, municipal employees, artists, developers, designers, journalists to share perspectives and insights about living and working in Oakland, and what can be improved.
Work together to find joint solutions. There might be multiple organizations tackling the same issue but you wouldn't know it unless we all come together.

Learn best practices from the tech world in areas such as Project Management, User Research, and Communications/Outreach. Use these practices to further the mission of organizations and be more effective with you do.

The format of CityCamp will primarily be one of an unconference. If you're not sure what an unconference is, please familiarize yourself with unconferences before the day of the event: Learn more about Unconferences or watch this quick summary.
Accessibility Services
Sign Language, Real Time Captioning, or other accommodations may be requested using our Accessibility Request form or by emailing citycamp@openoakland.org by March 20th.
Need a Spanish, Cantonese, or Mandarin interpreter? Please email by March 19.
¿Necesita ayuda relacionada con una discapacidad, un intérprete en español, Cantones, Mandarín o de Language de señas para participar? Envíe unaelectrónico por marzo 19.
需要手語,粵語或普通話翻譯?请联系我们3月19日.
citycamp@openoakland.org
*This event is for all-ages. However please note that childcare will not be provided on site.*
---
Event Code of Conduct
All attendees, speakers, sponsors and volunteers at our conference are required to agree with the following Code of Conduct. Organisers will enforce this code throughout the event. We expect cooperation from all participants to help ensure a safe environment for everybody.
---
A big thank you to our sponsors for making CityCamp possible!
Major Event Sponsor

Silver Sponsors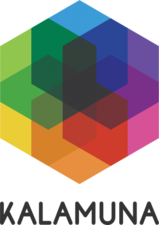 Interested in supporting this event? We need the help of sponsors! Contact citycamp@openoakland.org.
To learn more about us, visit www.openoakland.org


---
FAQs
What's the best transportation to the event?
Oakland City Hall is centrally located at Broadway and 14th Street. The 12th Street Bart and several AC Transit bus lines go directly there.
Where can I park?
If you're driving to the event, the Dalziel Parking Garage under 250 Frank H Ogawa Plaza will be open on the day of the event at 7AM to 1AM at night. Parking will be free for the day.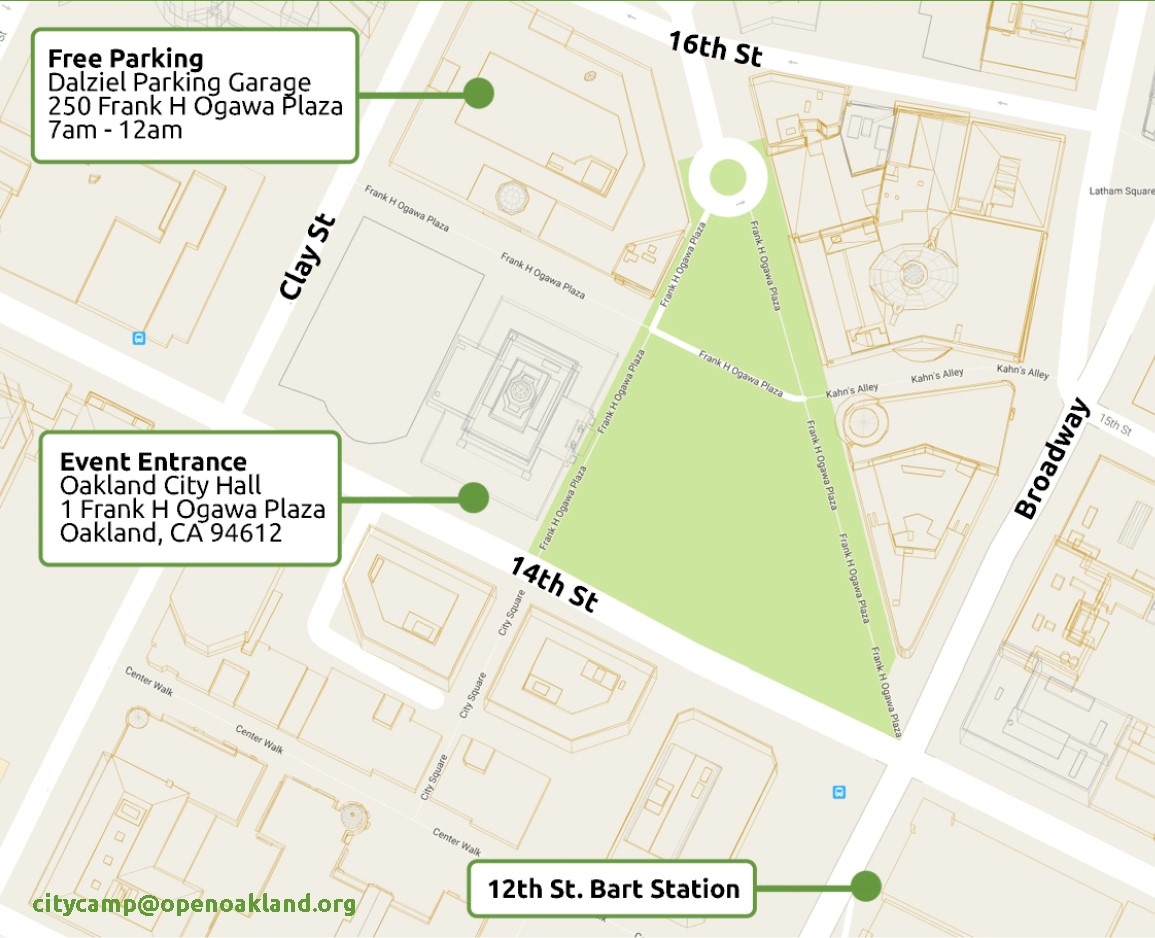 What do I need to bring to enter the event?
The only thing you need to bring is yourself! You can bring your laptop or tablet to the event, but all needed supplies will be provided.
Why are you asking me to disclose my racial identity and gender?
CityCamp is a space for all Oakland residents. We're asking our participants for some identifying data to know what areas of our community we've succeeded at connecting with, and which areas need additional outreach from us to make them feel welcome at CityCamp.
Who can I contact if I have questions?
Email us: citycamp@openoakland.org
How can I be more involved with OpenOakland?

Please join our Meetup page. We meet every Tuesday evening at 6:30pm at City Hall to work on civic projects.
---
Follow us at @CityCampOak on Twitter
Tag us on Twitter and Instagram with #citycampoak