Description
We want to hear your voice! Join us for the 5th annual CityCamp at Oakland's historic City Hall to share your ideas on how to improve local government and create a more informed, healthy, and livable community. Everyone is welcome at this free event.

Our goals:
Bring together residents, young people, students, community leaders, local government officials, municipal employees, artists, developers, designers, journalists to share perspectives and insights about living and working in Oakland.
Encourage open lines of communication, transparency, and effective local governance through active participation of all event participants.

Determine actions and solutions that participants can act upon after the event is over.
Agenda:
8:30am Registration (Light Breakfast Provided)
9:00am Welcome
9:30am Pitching & Agenda Building
11:00am 1st Session
12:00pm Lunch (Meal Provided)
1:00pm - 4:30pm Continued Sessions
4:45pm - 5:30pm "Call to Action" Panel
6:00pm After Party (Venue to be determined)
Accessibility Services

Sign Language, Real Time Captioning, or other accommodations may be requested using our Accessibility Request form or by emailing citycamp@openoakland.org by March 20th.
Need a Spanish, Cantonese, or Mandarin interpreter? Please email by March 19.
¿Necesita ayuda relacionada con una discapacidad, un intérprete en español, Cantones, Mandarín o de Language de señas para participar? Envíe unaelectrónico por marzo 19.
需要手語,粵語或普通話翻譯?请联系我们3月19日.
citycamp@openoakland.org
---
Event Code of Conduct
All attendees, speakers, sponsors and volunteers at our conference are required to agree with the following Code of Conduct. Organisers will enforce this code throughout the event. We expect cooperation from all participants to help ensure a safe environment for everybody.
---
Our speakers covering tech, diversity, community and innovation happening in Oakland:

CityCamp is brought to you by OpenOakland and sponsored by City of Oakland, the Kapor Center for Social Impact, and the Oakland Public Ethics Commission.

Interested in supporting this event? We need the help of sponsors! Contact citycamp@openoakland.org.
To learn more about us, visit www.openoakland.org/citycamp


---
FAQs
What's the session schedule?
Unlike a standard conference, the schedule for CityCamp is decided by vote by attendees on the day of the event. This is because this event is an "unconference", which is designed to empower event participants to drive the conversation to topics they think are most important in their community right now.
What is an unconference?
An unconference (also called an Open Space conference) is a participant-driven event. It is a loosely-structured conference emphasizing the informal exchange of information and ideas between participants, rather than following a pre-determined schedule. Unlike a traditional conference, there isn't a set program for the event. Instead attendees propose topics to discuss. Fellow attendees vote on which topics interest them; the top topics appear on the session agenda the day of the event. Proposed topics that are not included on the agenda still can be explored is open spaces, which are made available around the event. Learn more about Unconferences or watch this quick summary.
Can I propose a topic for a session?
Absolutely! In fact, an unconference depends on participants pitching topics to create sessions. Anyone can pitch a topic the morning of the conference. You don't need to prepare a presentation, be a professional presenter, or be an expert in your choice of topic.
Pitches need to be brief, so we have time to hear everyone: please keep your pitch to 30 seconds.
What sessions topics were discussed at last year's event?
You can view the 2016 session schedule here: bit.ly/oak2016. Click on the session names that are links to view the notes taken at that session.
What's the best transportation to the event?
Oakland City Hall is centrally located at Broadway and 14th Street. The 12th Street Bart and several AC Transit bus lines go directly there.
Where can I park?
If you're driving to the event, the Dalziel Parking Garage under 250 Frank H Ogawa Plaza will be open on the day of the event at 7AM to 1AM at night. Parking will be free for the day.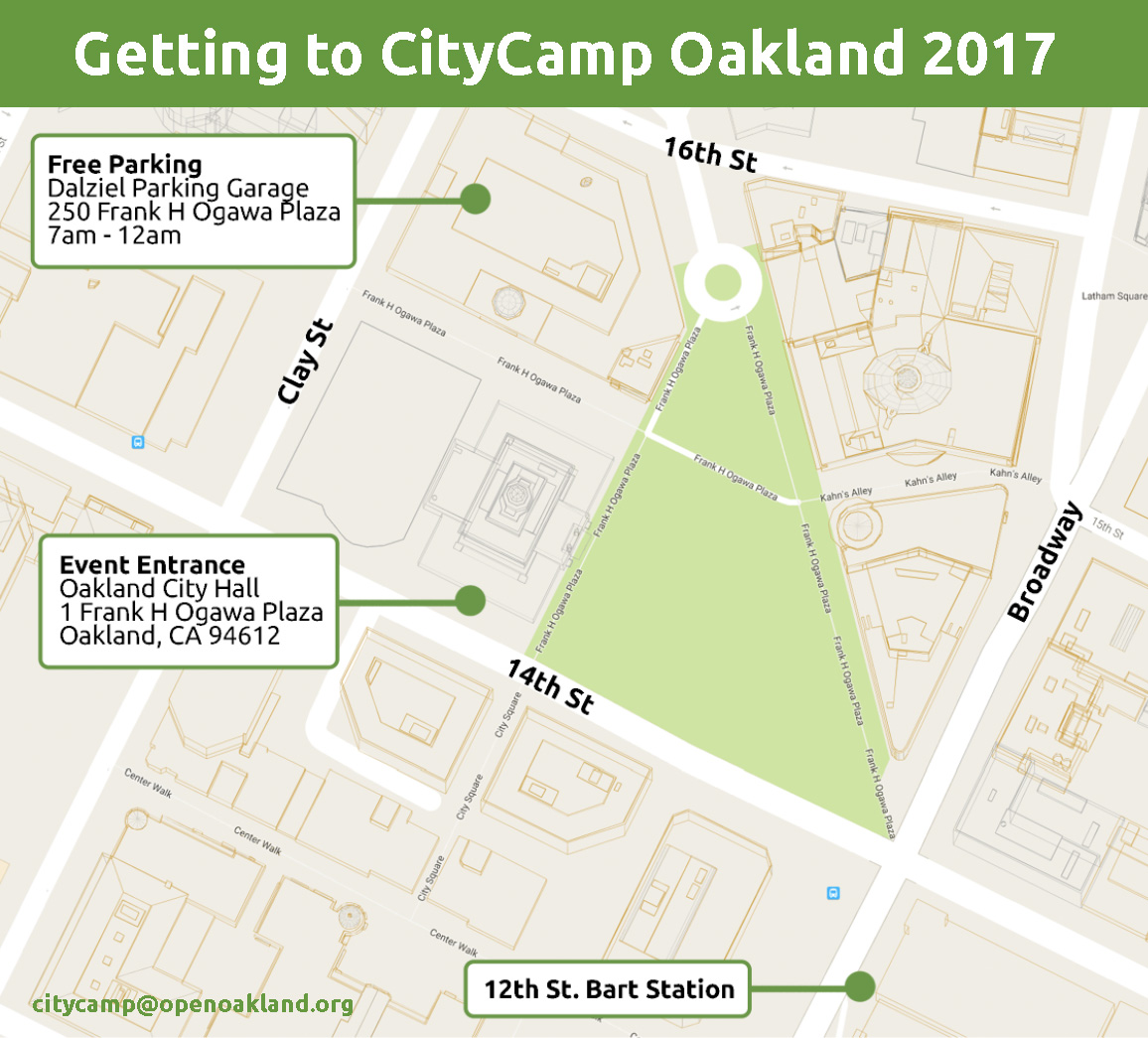 What do I need to bring to enter the event?
The only thing you need to bring is yourself! You can bring your laptop of tablet to the event, but all needed supplies will be provided.
Why are you asking me to disclose my racial identity and gender?
CityCamp is a space for all Oakland residents. We're asking our participants for some identifying data to know what areas of our community we've succeeded at connecting with, and which areas need additional outreach from us to make them feel welcome at CityCamp.
Who can I contact if I have questions?
citycamp@openoakland.org
---
Follow us at @CityCampOak on Twitter
Tag us on Twitter and Instagram with #citycampoak