Description
Join City Surf for our first annual DAY OF THE DEAD HALLOWEEN PUB CRAWL! aka - The Dia de Los Muertos Pub Surf-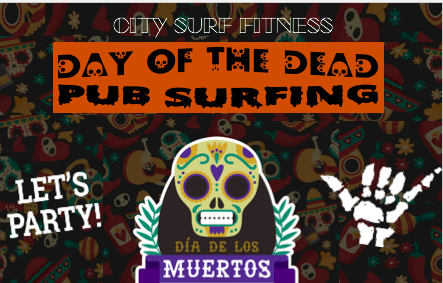 Get your sugar skull face pain, or skeleteon surfer costume ready and joing CSF as we cruise along Uptown for bar hopping and shenanigans!

We'll start off with a Brew at the CSF UPTOWN studio- and from there we will divide up into groups and give each group their own map and route. You'll also get directions, instructions and games cards to complete PUB BINGO and the scavenger hunt!

There are uptown 5 bars to surf to, but they'll won't be releaved until you get your map on event day! Make sure you play BINGO and keep you eyes open for the scavenger hunt clues... rewards and prizes are in store for the winner, and you don't even have to knock on stranger's doors.... unless you want to!

Prizes for best costume, worst costume and most creative! So get your zombie surfing gear and let's PUB SURF UPTOWN!!!