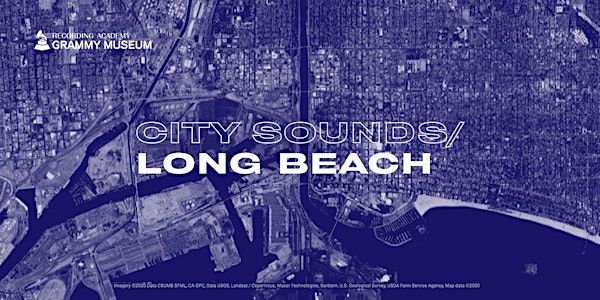 City Sounds/Long Beach
Located on the second floor of the Museum, the Clive Davis Theater is an intimate, state-of-the-art 200-seat theater.
When and where
Location
GRAMMY Museum 800 W Olympic Blvd A245 Los Angeles, CA 90015
Performers
HeyDeon
She Sings She Swings
Spider
About this event
City Sounds is a free quarterly concert series highlighting the diverse local music that Los Angeles has to offer. Hosted at the GRAMMY Museum, each concert will feature several musical acts from a specific LA neighborhood, showcasing a different part of LA at each concert.
Join us on February 21st at the GRAMMY Museum's next City Sounds concert, featuring local artists from the City of Long Beach. Performers include HeyDeon, She Sings She Swings, and Spider, hosted by Schyler O'Neal.
City Sounds is FREE with RSVP. Entry will be capped at the Clive Davis Theater capacity.
Home to over 450,000 residents, The City of Long Beach is the second-largest city in Los Angeles County. It was incorporated in 1897, and has produced some of the West Coast's most notable musicians from Snoop Dogg and Frank Ocean to Sublime and The Pussycat Dolls. Long Beach boasts a diverse and robust local music scene and multiple long-running annual music festivals.
Check - In: 6:30pm
Doors: 7pm
Show Time: 7:30pm
TICKET POLICY
The holder of this ticket is granted admission to the indicated facility for the purpose of viewing the specified event. This ticket is for use by the holder only and the holder is bound by this policy. This ticket is not transferable and may not be sold, otherwise conveyed or used for any other purpose, including promotion or commercial, without the prior written consent of The Recording Academy. If this ticket is sold, otherwise conveyed or used in violation of this policy, it will be deemed revoked and void, and its holder deemed a trespasser at all Recording Academy events. This ticket is a revocable license and admission may be refused by refunding the face amount of the ticket or ejection may occur for failure to comply with any facility rule. The holder agrees not to transmit or aid in transmitting any description, picture, recording or reproduction of the event. The holder acknowledges that the event may be captured and recorded by audio, audiovisual, and/or photographic means, and hereby grants permission to utilize the holder's image and/or voice in any and all media now known or hereafter devised to further the interests and mission of the Recording Academy. It is unlawful to reproduce this ticket in any form. The Holder assumes all risks incidental to the event, whether occurring prior to, during or after the event, and releases the facility, management, all participants and each of their affiliates, employees, officers, directors, members, partners, owners, managers, sponsors, contractors and agents from any loss, damage or expense resulting from any such risk. The Recording Academy reserves all legal rights and remedies. Save money on ticketing fees next time by becoming a GRAMMY Museum member! More info at grammymuseum.org.
EVENT TIME & DATE SUBJECT TO CHANGE