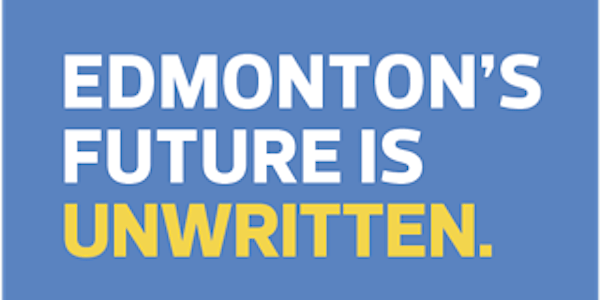 City Plan Workshop - Terwillegar Rec Centre, 9am-12pm
When and where
Location
Terwillegar Community Recreation Centre 2051 Leger Road Northwest Edmonton, AB T6R 0R9 Canada
Description
What choices do we need to make to be a healthy, urban, and climate resilient city that supports a prosperous region, at a city of 2 million?


What is the story of Edmonton's future?
---
We are building a new City Plan and would love your help. As an Edmontonian, you have the lived experience to help Edmonton determine the choices we need to make as we grow to 2 million people.

What is The City Plan?
The City Plan will chart out how we will be a city of 2 million that has the benefits we enjoy today with new opportunities for the future. How will we move around the city? Where will we live and work and play? Will we grow up or out? How will we connect to our friends and family and the spirit of this place we call Edmonton? What choices do we need to make together to grow, adapt and succeed?
Our ask of you
We are hosting five public workshops around the city for Edmontonians to actively participate in the identification of the city moves our city needs to make to grow to 2 million.
We will be at the following locations in November. Each workshop will be the same format, please RSVP to the Eventbrite invitation scheduled for the location and time that works best for you. Note there is a maximum of 60 attendees per workshop.
November 14, 2018: J.A. Fife High School, 1-4pm

November 16, 2018: Terwillegar Recreation Centre, 9am- 12pm
November 20, 2018: Meadows Recreation Centre, 5-8pm
November 22, 2018: Grand Trunk Leisre Centre, 5-8pm
November 28, 2018: Boyle Street Plaza, 1-4pm

What to expect at the gathering
The gathering is a place to talk about the city moves and choices, and their implications, that will craft Future Edmonton. You can expect to be in conversation with fellow Edmontonians as you develop tangible options for the future in a workshop-like setting. A pizza lunch/dinner will be provided at each event.
Please use this EventBrite to RSVP to join us.