City Park Winter Running Series

Saturday, November 11, 2017 at 8:00 AM

-

Saturday, March 17, 2018 at 11:00 AM (MST)
Event Details
THREE EVENTS LEFT IN THE CITY PARK WINTER RUNNING SERIES
FEBRUARY THROUGH MARCH 2018
CLICK HERE (www.cityparkseries.com) TO REGISTER
FOR MULTIPLE EVENTS AT PRICES LISTED BELOW
WHEN YOU REACH PAGE, CLICK ON REGISTER NOW

OR
CLICK ON SINGLE EVENT ICONS TO REGISTER FOR SINGLE EVENTS
3 1 Mile-$55 // 3 5K's-$65 // 3 10K's-$75 // 3 1M/5K Doubles-$120 // 3 1M/10K's-$130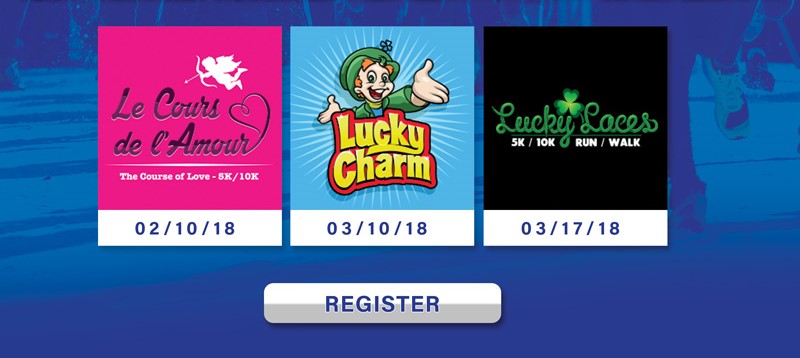 The City Park Winter Running Series (CPWS) consists of seven holiday-themed events over five months, with a requirement of participation in three of the seven events to be eligible for series awards, medals, summer race entry drawings, series after-party and much more!
SERIES SCORING: 
Series scoring is based on your lowest 3 placements in your age-group division (5K and 10K qualify - 1 mile race is not used for series scoring); the lowest score wins.  For example if you ran 4 races, placing 12th, 20th, 3rd and 6th - your score would be the sum of 12, 3 and 6, or 21.  There will be ties, which are broken by taking your top 3  finishing times, bringing them down to a 5K score and the fastest time wins that place.  If your age changes within the series, your series score is based on the age-group placement where you had the most races.
RUN THE CPWS DOUBLES!
There are three types of 'Doubles' within the City Park Winter Running Series.  There are registration discounts for the Doubles categories and throughout the season various awards and medals will be given for Doubles categories.  There will also be Doubles series medals and competitions at the end of the series - who can complete the most Doubles in the season?!
1.  Daily Double - 1 Mile (8 am) plus 5K or 10K (both at 9 am) - Register for the Daily Double through the Series Website or through the event website.  The category is 'Daily Double' and the alternate distance (1 Mile + 5K or 10K) will be defined.  You must register for the Daily Double in advance so that you can be issued separate bib and timing tags!
2.Christmas Double/Lucky Double - There are two series events, one week apart, in December and March.  The Christmas Double includes Scrooge on Dec 16 and Christmas Carol on Dec 23.  The Lucky Double includes Lucky Charm on March 10 and Lucky Laces on March 17.  Running either the 5K and/or 10K in both Christmas or Lucky events, constitutes the qualification for the Double award.  The Double registration categories are marked Christmas Double and Lucky Double in the series registration and event registration sites. If you register for and complete the 5K and/or 10K for the Christmas or Lucky Double, you will receive the special edition Christmas Double and Lucky Double shirt and medal rather than the standard event shirt and medal.
3.The Double Double!  Additional awards will be issued for completing both Daily Doubles for either the Christmas Double or the Lucky Double!  So, for example, you would do the 1 Mile and 5K or 10K at both of either the Christmas or Lucky events!
The series accommodates all ages and abilities. Start anew or stay on track with your training over the winter with 1 Mile, 5K and 10K distances at each event. Run all events at the same distance and see how you're progressing or use the series to build from a mile to a 10K over 5 months. Or pick and choose and mix and match distances to accommodate everything from a chill run in a gorgeous park to specific workouts; speed workouts, tempo runs or mile repeats. The City Park Winter Series is an excellent environment for focused training in a competitive environment.  One of my old favorites; work on one mile and 5K negative splits; testing the discipline in a progressive buildup in the first 5K at a pace that leaves enough in the tank to run the second 5K about 30 seconds faster. If you use it well, by the time March comes around, the City Park Winter Series will have you race-tested and road-ready – with a wall full of medals and a heart full of great memories to show for it!
Pets and strollers are welcome at all events. Everyone knows the rules; keep them leashed - be aware of and courteous to other event participants - pick up after them and don't let them wander off :)
Event Start Times:
All CPWS events are hosted at Denver's City Park. Within reason, and barring any delay requests from park rangers or police officers, each series event adheres to this schedule:
8 am          1 Mile (Run the Doubles! – Knock out the mile at 8 and line up for the 5K/10K at 9)
8:40 am    Youth Fun Run (1/4 Mile)
9 am          5K/10K Start
Event Dates 2017-2018 Season:
Nov 11, 2017     Park Hill Pizza Pie – (Event Complete – 2018 Registration is Open)
Dec 16, 2017     Scramblin' Scrooge
Dec 23, 2017     Christmas Carol Classic
Jan 06, 2018     Resolve
Feb 10, 2018     Le Cours de l' Amour (The Course of Love)
Mar 10, 2018     Lucky Charm
Mar 17, 2018     Lucky Laces
Each event features:
Professional timing
Free race picture downloads
Race branded tech t-shirts
Finisher medals for all 1 Mile, 5K and 10K finishers
Overall male and female awards for each event distance
Awards male and female age-group awards in 10-year increments
Series awards and medals
Interactive expo
Holiday themed entertainment and costume contests
Bottled water and Gatorade
Excellent 'runner' food (as well as some delicious 'not-so-much-runner-food')
Most importantly, the spirit of the season from November through March!
Quick and 'Share-Easy' Event Links:
PARK HILL PIZZA PIE                         www.runparkhill.com
SCRAMBLIN' SCROOGE                      www.scramblinscrooge.com
CHRISTMAS CAROL CLASSIC           www.christmascarolclassic.com
RESOLVE 1M/5K/10K                           www.runresolve.com
LE COURS DE L' AMOUR                    www.thecourseoflove.com
LUCKY CHARM                                      www.runluckycharm.com
LUCKY LACES                                         www.luckylacesrace.com
Why run the City Park Winter Series?
There are so many reasons; from themed holiday events that keep you in the spirit of the season to the myriad of benefits of a series that provides the opportunity to measure your training goals over 5 months. And yes, it's winter in Colorado. To be sure, we've had some awesome winter-weather runs, but remember, Denver boasts 300+ days of sunshine per year; so on the average these events take place in beautiful Colorado sunshine!
INSPIRATION: Your participation benefits our nonprofit event partners, which include Denver Children's Home, Heart & Hand Center, Bluff Lake Nature Center, Mile High Lab Mission and others. Use your influence in the running community to add additional support to a nonprofit of your choice through our affiliate programs; a portion of every registration that comes through your unique affiliate link will go to you or the nonprofit of your choice, depending on how you set it up. For more information about this opportunity email nick@featonthestreet.com.
TRAINING: Running in City Park gives you the ability to really test your training discipline; are you focusing on running negative splits? If so, track your miles and implement your discipline on the certified 5K course; better yet, track not just your miles, but your 5K split time on the 10K course to ensure that you're not wasting all your energy in the first 5K. Then, compare your times over the months to see if your training between races is paying off. Doing this will ensure that when the spring season comes around, you will have utilized the winter months to stay steady and build your strength and speed.
Whatever the reason, whatever your 'FEAT' – your purpose, your mantra, your goal - join the Colorado tradition and participate in the City Park Winter Running Series!
Feat on the Street, Inc.
Your Race. Your Pace. Your Feat.
When & Where

City Park
3001 E. 17th Avenue
Denver, CO 80205


Saturday, November 11, 2017 at 8:00 AM

-

Saturday, March 17, 2018 at 11:00 AM (MST)
Add to my calendar
Organizer
Feat on the Street, Inc. - Your Race.  Your Pace.  Your Feat.
Whether you're an experienced athlete looking for a PR and a steady regimen of timed competitive training events or a recreational runner looking for awesome themed events to enjoy with your friends - run Feat on the Street events and find out how easy it is to connect your active, healthy lifestyle and personal goals with a social community that will seem as though it's made just for you!