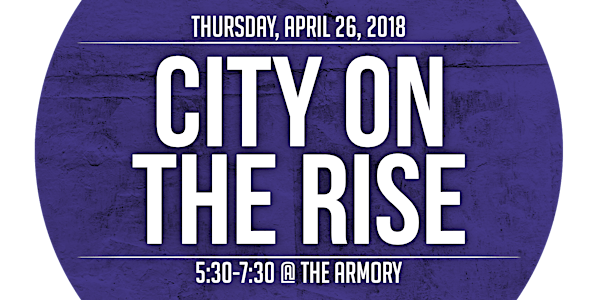 City On The Rise
When and where
Location
The Armory South Bend 727 S. Eddy Street South Bend, Indiana 46617
Description
Join us Thursday, April 26!
Featured aspects of the event include:
Keynote talks from Regina Emberton and Chris Stevens, explaining the importance of South Bend and the importance of discovering your personal "why".

Back in the Bend presented by Patrick Industries: Walk through the history of South Bend by experiencing the life of the city starting in 1842. Learn the successes and downfalls that your city endured to be where it is today, a city on the rise.

Why Wall presented by 1st Source Bank: Dive into thought of why you do what you do, why you are where you are. Share your personal why with us!

Raising the Region: Engage with businesses that highlight the diverse industries in our region and are having a significant impact on our revitalization of South Bend!
City on the Rise will showcase South Bend regional businesses, stemming from the early days of enterprise in the region into the newest up and coming launches. Guests will be exposed to the untapped potential South Bend has to offer, as well as gaining a better understanding of their personal why. Tickets start at $25 for general admission and $15 for students with a promo code.
Keynote Speakers
Talk: Why South Bend
Speaker: Regina Emberton, President & CEO, South Bend - Elkhart Regional Partnership
Talk: Why You
Speaker: Chris Stevens, Founder & CEO of CS 74; Retired, Keurig; Adjunct Professor, Mendoza College of Business
Stay tuned for more details!
With any further questions or if you are teacher, student, or other educational partner needing a promo code, please contact: startupmoxie2018@gmail.com
#SBcityontherise
Thank you to our sponsors!












---
Silver


Aay's Rental
Anthony Travel
Chemical Bank
Hearth and Home Design Center, Inc.
Manufacturing Technology, Inc.
PSSI
---
Bronze


Amy and Rob Sink
Healy Group
Jamil Packaging
Ladue, Curran & Kuehn
Lake City Bank
Martin Marketing
Radiology Inc.
Selge Construction
Sweeney Julian Personal Injury Trial Attorneys
Stay Metrics
Teachers Credit Union
Zolman's Tire