Description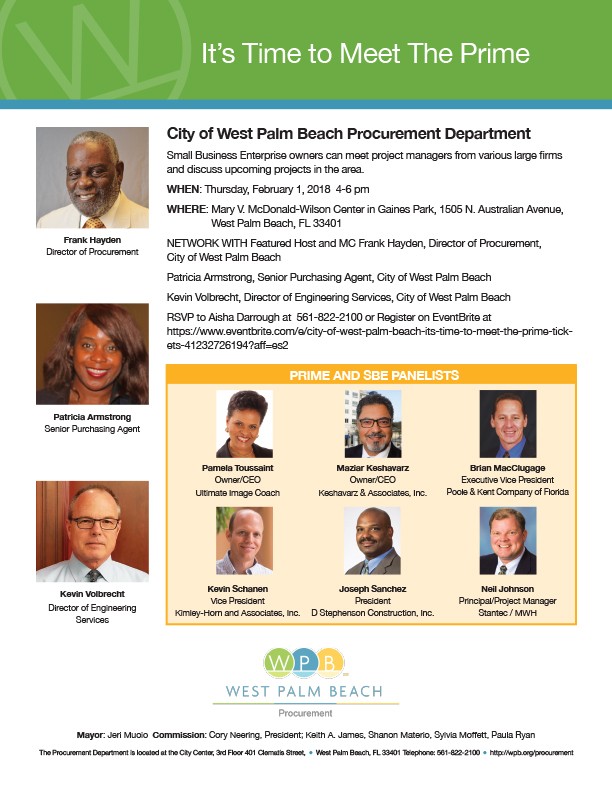 Come out and Network with the City of West Palm Beach Procurement Department & Prime Contractors!
Meet prime vendors and the team responsible for purchasing commodities, goods and services at the City of West Palm Beach. Learn about upcoming business opportunities in the area, and talk one-on-one with representatives of varies organizations.
The City of West Palm Beach "Meet the Prime Forum" is designed to provide Small Business Enterprises with much needed introductions to Big Business. Hear about details on bid-ready projects and the almost $170 million in approved funds. There will also be three SBEs highlighted during the session. Don't miss this opportunity to network and market your firm. Get your SBE certification paperwork on-site
Meet and Network with:
Frank Hayden, Director of Procurement, City of West Palm Beach
Patricia Armstrong, Senior Purchasing Agent, City of West Palm Beach
Kevin Volbrecht, Director of Engineering Services, City of West Palm Beach
We hope to see you there!
Mary V. McDonald-Wilson Center in Gaines Park, 1505 N. Australian Avenue, West Palm Beach, FL 33401
Registration opens at 3:30 p.m.
Refreshements will be served!