About this Event
How can cities become more livable, more sustainable, more beautiful? That's a question that drives the urbanists and technologists at Sidewalk Labs, an urban innovation company. In this panel discussion, Vanessa Quirk, host of the podcast "City of the Future," will interview three Sidewalk Labs experts to get their perspectives on the ideas and innovations that will transform our future cities.
Guests
Karim Khalifa, Director of Buildings Innovation
Willa Ng, Director of Mobility for Streets
Emily Kildow, Associate Director of Sustainability
About the Host
Vanessa Quirk is co-host of City of the Future and Sidewalk Labs' Editorial Manager. Before Sidewalk, Vanessa worked at Metropolis Magazine and ArchDaily as an architecture and design journalist (she has an M.A. in Arts and Culture Journalism from Columbia University). When she's not writing, editing, or thinking about cities, she's probably traveling, cycling, singing harmonies, or listening to podcasts.
All ticket holders are invited to attend a complimentary Happy Hour hosted by CityLab at Camp David starting at 5pm.
Purchase a $15 Smart Cities Day Pass granting access to all Smart Cities events here.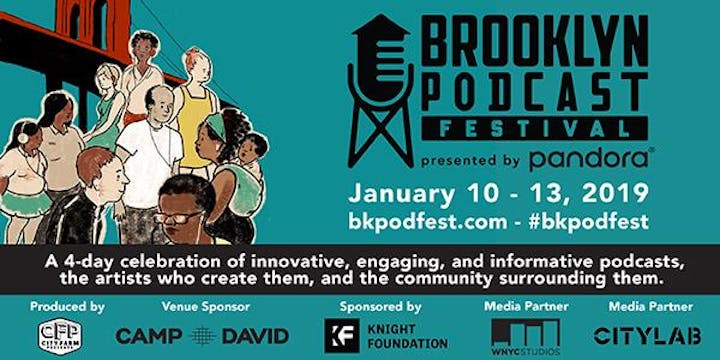 About the Brooklyn Podcast Festival
The Brooklyn Podcast Festival is presented by Pandora. WNYC Studios is a media partner of the Brooklyn Podcast Festival.
Launched in 2017, the Brooklyn Podcast Festival is a celebration of innovative, engaging, and informative podcasts of all genres, the artists who create them, and the community surrounding them. The Festival gives audiences the opportunity to see their favorite podcasts live and a chance to discover new and up and coming shows.
Smart Cities Series, part of the Brooklyn Podcast Festival presented by Pandora, is brought to you by Knight Foundation. Camp David is a venue sponsor of the Smart Cities Series. WNYC and CityLab are media partners of the Brooklyn Podcast Festival.