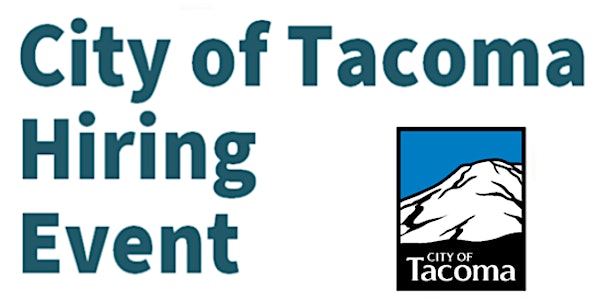 City of Tacoma Hiring Event
The City of Tacoma is an Equal Opportunity Employer and values diversity in its workplace.
When and where
Location
WorkSource Pierce 2121 S State St, Ste 300 Tacoma, WA 98405
About this event
City of Tacoma is hosting an In-Person Hiring Event at WorkSource Pierce on Wednesday, August 17th.
There are three (3) sessions at this event. -- Click on REGISTER button to sign-up for a session that is most convenient for you. Please note that limited seats are available at this event. -- Register today to have a guaranteed seat!
Session # 1: 10:00 AM – 11:00 AM
Session # 2: 11:00 AM – 12:00 PM
Session # 3: 12:00 PM – 1:00 PM
*** Each session has a formal City Jobs presentation with information on recruitment processes and the Civil Service governance process as it relates to applying for positions at City of Tacoma. (One 40-minute session per hour, the workshop door closes a few minutes after the hour).
*** City of Tacoma HR Professionals from Talent Solutions are available to answer questions and assist you with the online application process.
*** Each hour-session stands alone and has the same information. Please register for only one session.
Attend this Hiring Event and be ready to meet with company representatives to learn about rewarding and prosperous careers with City of Tacoma. Sign up to stay connected to City career opportunities!
This Hiring Event is FREE and OPEN to the public. Veterans are encouraged to attend the event.
This event will take place at WorkSource Pierce located on 2121 S State St, Ste 300, Tacoma, WA 98405.
FEATURED JOBS available at this Hiring Event are Engineers, Management Analysts, Laborers, Management (IT, Records, Water).
All current job openings with City of Tacoma can be viewed here.
PROFESSIONAL EMPLOYMENT at City of Tacoma: 
Planning & Development Services
Public Works
Information Technology
Community & Social Services
Facilities & Maintenance
Law Enforcement
Environmental Services
Utilities & Transportation
Finance
Government
SALARY RANGE & BENEFITS (depending on the position): 
Salary range from $18.00 to $75.00 per hour
Benefits (family coverage, as low as $100 a month) include Medical, Vision, Dental, Paid Leave/Vacation, Retirement, and more!
We encourage you to create a profile on www.WorkSourceWA.com which will allow you to easily apply for jobs with City of Tacoma, and many other employers.
If you have any questions about this Hiring Event, please contact Louis Ihrig at Louis.Ihrig@esd.wa.gov