Mayor Edwards, Councilwoman Helen Z. Willis, and Councilwoman Carmalitha Gumbs presents the inaugural Easter Food Giveaway.
About this event
Mayor William "Bill" Edwards, Mayor Pro Tem Helen Z. Willis, Councilwoman Carmalitha Gumbs, presents the inaugural Easter Food Giveway in the City of South Fulton. As we embark upon the holiday season, this event helps to address food insecurity during the pandemic. You have to register to attend.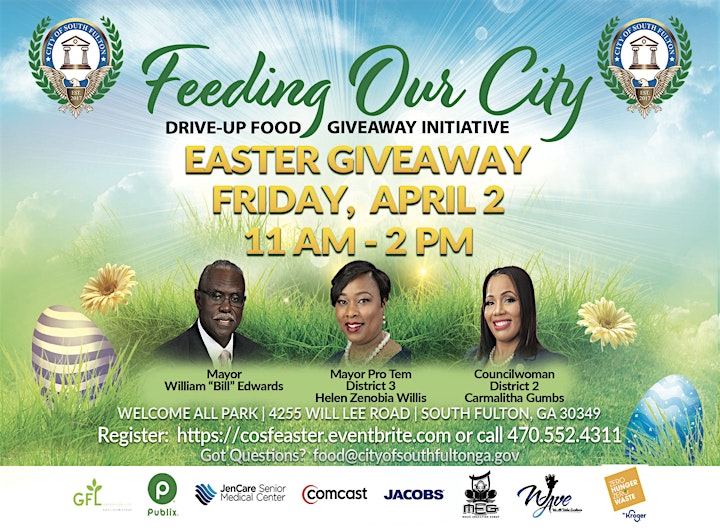 Organizer of City of South Fulton Easter Food Giveaway
The City of South Fulton: Where You Want to Be
Where you want to be – it's not just a motto. It's a way of life.
Situated within a drive of 15 to 20 minutes to Atlanta and Hartsfield-Jackson International Airport – the world's busiest – the City of South Fulton is home to nearly 120,000 people. It represents the best of all worlds, from the bustling business districts on Roosevelt and Old National Highways to sprawling, rural scenes along the city's picturesque southeast border. Communities such as Red Oak, Campbellton and Sandtown enjoy rich histories that have unfolded of hundreds of years.
Incorporated on May 1, 2017, the City of South Fulton is Georgia's fifth-largest city in population. Nearly 92 percent of its residents hold at least a high school diploma and the average household income is about $78,000, making the city one of the best-educated and most-affluent in the south metro Atlanta area.