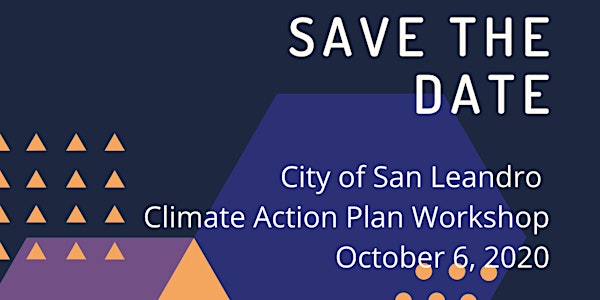 City of San Leandro Climate Action Plan Workshop No. 2
Join us for a workshop on the City of San Leandro's Climate Action Plan update to discuss how we will implement the plan!
About this event
The City of San Leandro, along with experts around the world, recognizes the urgency of the climate crisis and recommends taking bold climate action that prioritizes equity and well-being of frontline communities, and helps San Leandro become more resilient.
After months of work, the City has developed draft goals and strategies for its 2020 Climate Action Plan update. Please join us online October 6, 2020 at 7PM-9PM to discuss the draft plan and how we as a community will come together to implement the climate goals and strategies. What is the role of teachers and students? What is the role of faith groups, residents and businesses? Climate change is a challenge for all of us and we will need all hands on deck to solve this problem.
Register today to join us for this important discussion!
This workshop will be interactive and conducted using Zoom, an online video/audio conferencing platform. Workshop participants can join us from a personal computer, tablet, or smart phone with an internet connection. Participants will also have the option to join by phone only if internet access is not available. Since this is an online, virtual workshop, each participant should register unless participants will be sharing a computer.
For more information about the project, visit: https://www.sanleandro.org/depts/pw/sust/cap.asp.
If you have any questions or comments, please contact Dr. Hoi-Fei Mok at sustainablesl@sanleandro.org.
---
La Ciudad de San Leandro, al igual que expertos de todo el mundo, reconoce la urgencia de la crisis del medio ambiente y recomienda tomar acción audaz que pone en prioridad la equidad y el bienestar de las comunidades al frente, lo cual ayuda a San Leandro ser más fuerte. Después de meses de trabajo, la Ciudad ha desarrollado un borrador de objetivos y estrategias para su actualización del Plan de Acción del Medio Ambiente del 2020. Por favor únase a nosotros en línea el 6 de octubre de 7PM-9PM para discutir el borrador del plan y cómo es que nosotros como comunidad nos vamos a unir para implementar los objetivos y estrategias. ¿Cuál es el papel de maestros y estudiantes? ¿Cuál es el papel de grupos de fe, residentes y negocios? El cambio climático es un reto para todos nosotros y necesitamos todas manos a la obra para resolver este problema.
¡Regístrese hoy para asistir a esta discusión importante!
Este taller será interactivo y presentado por medio de Zoom, una plataforma de conferencia de video y audio. Los participantes pueden unirse al taller por medio de computadora personal, tableta, o celular con conexión al internet. Los participantes también tendrán la opción de unirse al taller por teléfono solo si no tienen acceso al internet. Porque el taller es en línea y virtual, cada participante debe registrarse a menos que compartan una computadora con otro participante.
Para más información sobre el proyecto, visite: https://www.sanleandro.org/depts/pw/sust/cap.asp.
Si tiene preguntas o comentarios, favor de contactar a Dr. Hoi-Fei Mok al sustainablesl@sanleandro.org