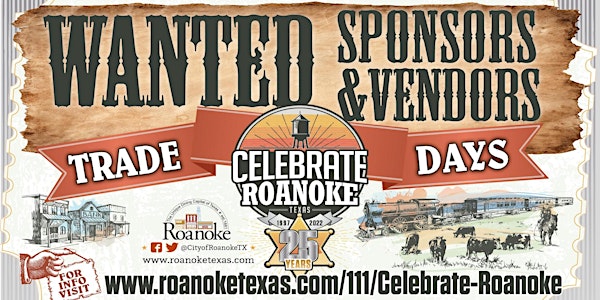 City of Roanoke Vendor Application- Celebrate Roanoke
CITY OF ROANOKE, TEXAS VENDOR APPLICATION - CELEBRATE ROANOKE
When and where
Location
City of Roanoke City Hall 500 S. Oak St Ronaoke, TX 76262
About this event
Dear Applicant:
Thank you for your interest in applying for a vendor booth space at our upcoming Celebrate Roanoke street festival! The application deadline for this event is September 19, 2022. If signing up for before August 25, 2022, enter the code CR25 to receive $25 off of your fees.
If you wish to register for booth space, please follow all application instructions carefully. All applicants will be notified by email of acceptance or non-acceptance within 10 days of our receiving the completed application and required paperwork. Applications will not be accepted after September 19, 2022. The following items must be completed and received for the application to be considered complete:
Completed Application & Acknowledged Vendor Guidelines Page
Total Booth Fee
Current Photos of Products & Display
Notarized Hold Harmless Agreement (if not previously completed within the last 12 months)
FOOD VENDORS ONLY- * NEW PROCEDURE* Roanoke Special Events Department is no longer involved in permitting. Health Inspection Temporary Permit Please note the food truck vendor fee has been reduced as the temporary food permit fee is no longer included in the vendor fee. The permitting department will manage the permit, any food permit related questions, and the associated $100 fee. Upon completion, please send the temporary permit to the City of Roanoke Permitting Department - permits@roanoketexas.com. The department's phone number is (817) 491-2411.
Vendor Guidelines
1. Due to the number of available booths, the City of Roanoke will select vendors from applications received by the vendor application deadline (September 19, 2022).
2. Submission of an application does not guarantee acceptance. The City of Roanoke allocates a specific number of booth spaces for retail, food, service and non-profit vendors. City of Roanoke officials reserve the right to select or reject vendors.
3. Vendors must describe accurately, and in-detail, their booth size and requirements to avoid unnecessary movements of booth locations. Booth movements are at the sole discretion of event planners.
4. Food trucks/trailers with hoods must be inspected by Fire Marshall two weeks in advance. Call (817)491-2301 for appointment.
5. All applicants will be notified of their acceptance or declined application, by email, within 10 days of receipt of the vendor application. Vendors not selected will be refunded any paid fees immediately thereafter.
6. If selected as a Celebrate Roanoke vendor, an email will be sent within 5 days of the festival date with booth assignment and setup instructions.
7. Celebrate Roanoke vendors may begin set-up during their assigned time slot. Celebrate Roanoke management will be in touch 5 days prior to the event with load in/out instructions and times. All vendors will be assigned an access/entry/loading point. Please utilize your assigned point to access the event and load in/out your items.
8. Vendors will unload at assigned entry points, which will be located closest to their booth assignment. Movement of street barricades is unlawful.
9. The City will make a good faith effort to assign staff/volunteers to assist in the load in/load out process to facilitate a swift and efficient unloading process.
10. Celebrate Roanoke management must authorize any moving or switching of booth spaces.
11. Vendors and/or their representative must be present at their assigned booth during event hours. Vendors must stay the full duration of the event.
12. If needed, vendors must supply their own extension cords, lighting and cord coverings. Please note power is an additional cost.
13. Vendors shall provide any additional booth decorations and all sale and display items must be contained within booth area.
14. Vendors are responsible for submitting all applicable taxes directly to the proper agency.
15. The City of Roanoke does not assume responsibility for damage or theft of vendor or vendor associates property.
16. The City of Roanoke, Texas reserves the right to cancel an event due to low enrollment or other circumstances which would make the event non-viable. If the City of Roanoke, Texas cancels an event, and no make-up day is established, participants/registrants will be offered a full refund. The City of Roanoke will make a good faith effort to establish a make-up day on any cancelled events and the participant's registration will be transferred to the future date.
In the case of inclement weather, the City of Roanoke, Texas follows the recommendations of the City Emergency Services team. If an event is cancelled or the City of Roanoke, Texas is closed due to weather, participants/registrants will be notified via email, and all information will posted on the City website and on social media pages. Registration and any collected fees will be transferred to the make-up date; if applicable or refunded.
17. Unless specifically stated on registration materials, the City of Roanoke, Texas does not issue refunds due to participant's unforeseeable circumstances. In the event the participant/registrant has an illness, or emergency event, the City will do its due diligence to move the funds paid to the next calendar event. If possible, please notify the City of your emergent need for cancellation within 72 hours of the event. Refunds will not be available, nor considered, for participants/registrants who choose not to attend an event or have determined a scheduling conflict. Cancellations will be accepted in writing (email) only. All refund requests must be made by the attendee or credit card holder. Refund requests must include the name of the attendee and/or transaction number. Refunds will be issued in the original manner of payment submitted.
18. All exhibitors are expected to conduct themselves in a professional manner, according to the rules of this agreement. No illegal substances or weapons are allowed on person or in the booth. Any unruly conduct, refusal to follow rules or use of foul language will be considered grounds for removal from the festival.
These above policies apply to all City of Roanoke, Texas events unless otherwise noted in the corresponding event materials. Please read all individual event information thoroughly. By submitting this application, I agree with the provisions provided to me in this application. My submission acknowledges that I and my associates agree to follow all rules and regulations set forth by festival staff and understand that failure to do so can result in my immediate removal without refund.