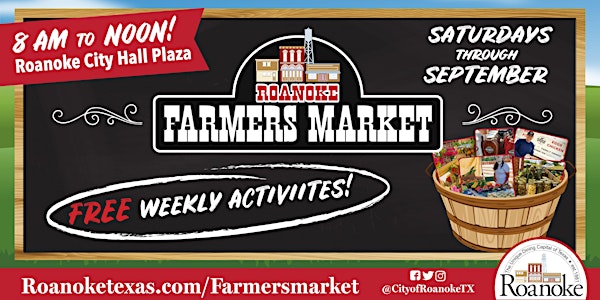 City of Roanoke 2023 Farmer's Market Application
CITY OF ROANOKE, TEXAS VENDOR APPLICATION -FARMERS MARKET
By City of Roanoke, Texas
Date and time
January 1 · 7am - September 30 · 1pm CST
Location
City of Roanoke City Hall 500 South Oak Street Roanoke, TX 76262
Refund Policy
Contact the organizer to request a refund.
About this event
272 days 5 hours

Mobile eTicket
Dear Applicant:
Thank you for your interest in applying for a vendor booth space at our Farmers Market! We look forward to providing an opportunity for citizens of the City of Roanoke, surrounding areas, and visitors to be able to shop locally.
Applications are open to area food vendors only. Must be made and/or grown locally (within 180 miles of Roanoke, TX).
The 2023 season will begin on Saturday, April 1st, and will end on Saturday, September 30th. It is preferred vendors be present for the duration of the season (26 weeks).
If you wish to register for booth space, please follow all application instructions carefully. All applicants will be notified by email of acceptance or non-acceptance. All required paperwork must be received to be considered for the market. The following items must be completed and received for the application to be considered complete:
Vendor Guidelines
1.The City of Roanoke Farmers Market applications are exclusively open to food and beverage vendors only (food grown and/or raised on a local farm/ranch/garden within 180 miles of Roanoke).
2. Craft and non-food vendors will not be accepted for the Farmers Market. Craft, retail and service type vendors can apply to other City of Roanoke festivals and events. Please visit the City of Roanoke website for a list of events and dates.
3. All farmers/producers must supply their own tent, table and chairs, 10 lb tent weights, and signage. Farmers/producers are responsible for attaching weights to tents, taping down any loose electrical cords, and securing any other moveable apparatus which could come loose or harm someone in any way.
4. Resellers, distributors, wholesalers and manufactured products vendors are prohibited.
5. Vendors are required to remain open for business during the entirety of each market day (8:00 a.m.-12:00 p.m.) unless prohibited by weather. Vendors are asked to arrive at 7:00 a.m. the day of the market for set-up. Vendors may not close early, even if out of products, as customers may assume the market is closed (which can impact other vendors).
6. Farmers/producers and/or their representative must be present at the assigned table during market hours. All sale and display items must be contained within the designated sales area.
7. The City of Roanoke will assign booth locations. Locations will be assigned the last week of each month (if not permanent). All attempts will be made to keep vendors in the same place for each market.
8. Vendors must have liability insurance, food insurance, and a signed and notarized hold harmless agreement.
9. Products must abide by all applicable production, manufacturing, health, and labeling laws.
10. Farmers/producers may be subject to a health inspection. The City of Roanoke will manage and pay all health inspector fees. Inspection requirements, and date of inspection, will be sent to all farmers/producers prior to the inspection.
11. Submission of application does not guarantee acceptance. The City of Roanoke allocates a specific number of booth spaces. The City of Roanoke reserves the right to select or reject vendors.
12. Farmers/producers are responsible for submitting all applicable taxes directly to the proper agency.
13. The City of Roanoke does not assume responsibility for damage or theft of vendor or vendor associates property.
14. Roanoke Farmer's Markets are rain or shine. Booth payments are nonrefundable. Should a market need to be cancelled, all vendors will be notified by 6:00 a.m. the day of the market (notifications will likely be sent via email). In the case of a weather cancellation, best faith efforts will be made to open the market with a delayed opening time, or other option.
15. All exhibitors are expected to conduct themselves in a professional manner, according to the rules of this agreement. No illegal substances or weapons are allowed on person or in the booth. Any unruly conduct, refusal to follow rules or use of foul language will be considered grounds for removal from the market, and will result in no longer being invited to participate in subsequent markets.
By submitting this application, I agree with the provisions provided to me in this application. My submission acknowledges that I and my associates agree to follow all rules and regulations set forth by festival staff and understand that failure to do so can result in my immediate removal without refund.