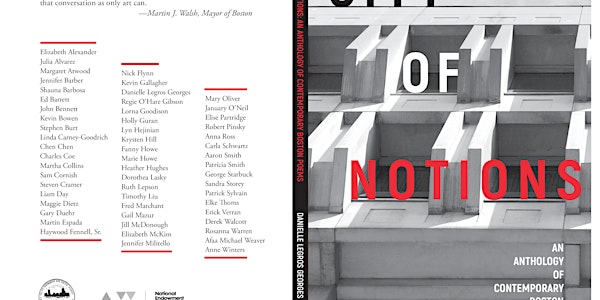 "City of Notions"
When and where
Location
Boston Public Library - Central Branch 700 Boylston Street McKim Courtyard Boston, MA 02116
Description
Boston's Poet Laureate Danielle Legros Georges celebrates the release of "City of Notions: An Anthology of Contemporary Boston Poems," with a public reading in the Courtyard of the Central Branch of the Boston Public Library in Copley Square on Thursday July 27, 2017 at 6 pm.
"City of Notions" is a collection that salutes aspects of everyday life in Boston: City Hall, Mass Ave., the MBTA, Storrow Drive, the Boston Marathon, the Star Market. Nearly sixty poets contributed to the anthology and run the spectrum from up-to-now unpublished authors to the former U.S. Poets laureate, all contributing a taste of their personal versions of Boston.
In addition to the poet laureate, contributors to "City of Notions" include: Robert Pinsky, Mary Oliver, Margaret Atwood, Gail Mazur, Nick Flynn, Stephen Burt, and Julia Alvarez. See the attached cover for a full listing of contributors.
Danielle Legros Georges and many of the contributing poets, including Krysten Hill, Jennifer Militello, Timothy Liu and Linda Carney-Goodrich and more, will read their work from "City of Notions" at this memorable event.
Welcoming remarks by City of Boston's Chief of Arts and Culture Julie Burros at 6 pm.