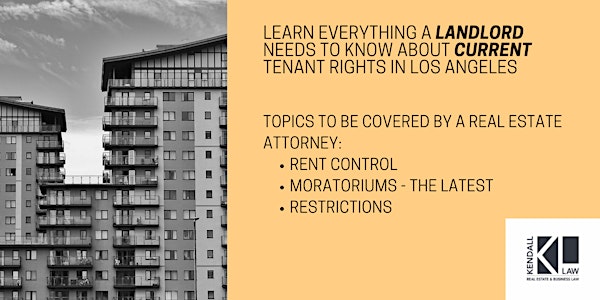 City of LA - What LANDLORDS need to know about current TENANT RIGHTS
Learn EVERYTHING a LANDLORD needs to know about CURRENT tenant rights in Los Angeles with Real Estate Attorney Eileen M. Kendall
About this event
Topics to be covered by a real estate attorney:
Rent Control
Moratoriums - the latest
Restrictions
Eileen graduated from Washington State University in 1997 and received her law degree from Gonzaga in 2002. In high school she worked for a product liability firm. Between undergrad and law school she worked for a general law practice in Dalton, Georgia. While in law school she worked for a real estate civil litigation firm. Eileen is admitted to practice law in the State of California and is able to appear before all California Federal District Courts and the Ninth Circuit Court of Appeals. She has been practicing in the field of litigation, with a particular emphasis on real property and business since 2002. Eileen has successfully prevailed on both appeals and trials.
Eileen M. Kendall has been practicing law for over 15 years and has found that clients truly appreciate the time and effort she puts into every aspect of their legal needs.