Description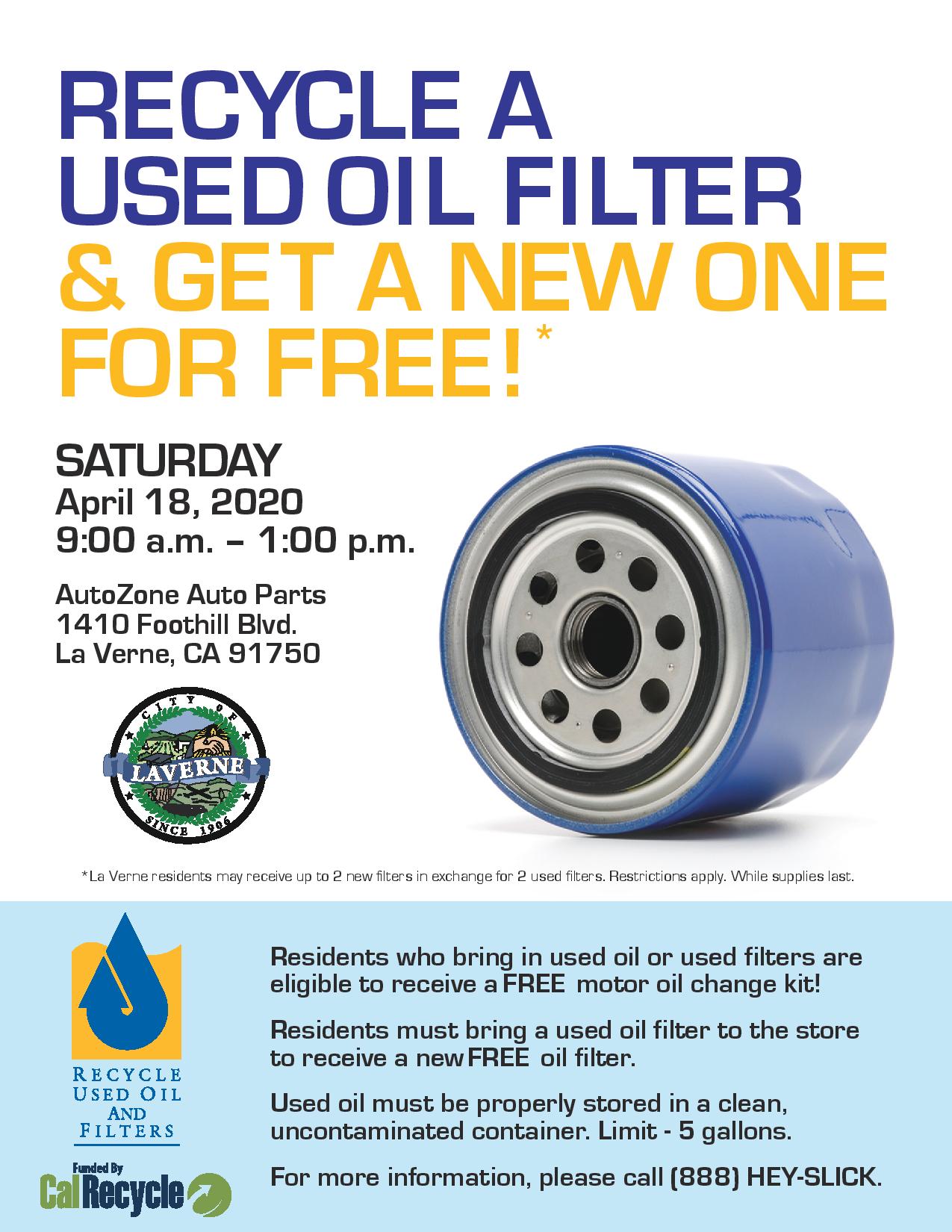 Don't Forget the Filter!
La Verne residents who recycle an old oil filter at AutoZone, get a new filter for FREE!
The City of La Verne will be holding a used motor oil filter exchange event on Saturday, April 18, 2020 from 9:00 a.m. to 1:00 p.m. at AutoZone, 1410 Foothill Boulevard. In exchange for their used motor oil filters, residents will receive new motor oil filters free of charge (La Verne residents may receive up to 2 new filters in exchange for 2 used filters; filters valued up to $15 each; while supplies last­). After your next oil change, bring in your used oil and filter and receive vouchers for new oil filters to redeem at this one-day recycling event.
"Used motor oil and filters are highly recyclable," says Kevin Sales, La Verne's Used Oil Recycling Program coordinator. "The City wants to make used motor oil and filter recycling as easy for the Do-It-Yourselfer as possible. Both the oil and the steel from the automotive filter will be recycled; and you can redeem your filter voucher immediately for a free oil filter from AutoZone."
The City of La Verne encourages all residents to participate in the event and to recycle their used motor oil and filters. Supplementary educational materials will be available as well as additional oil change materials for eligible participants.
Other used oil collection centers can be located by calling 888-CLEAN-LA, or visiting www.CleanLA.com. Further information regarding the Filter Exchange Event can be obtained by contacting the Used Oil Recycling Hotline at (888) HEY-SLICK.
Funded by CalRecycle
###
For more information or to schedule an interview, please call KJServices Environmental Consulting at 562-944-4766 or e-mail info@kjservicesenviro.com