Description
Registration has closed for this event. But you are still welcome to come, as the event is free.
The Office of Minority & Women Business Development and The Purchasing Division for the City of Indianapolis are hosting the 2nd Annual Reverse Trade show. The Reverse Trade Show is an event that provides an opportunity for suppliers, consultants, contractors, etc. to meet with procurement professionals from numerous governmental agencies and the private sector at one time. Below is a list of organizations that will be participating:
(Confirmed vendors)
Office of Minority and Women Business

Development
Purchasing

Division

Business and Neighborhood Services

Dept. of Parks and

Recreation
Health & Hospital Corporations of Marion

Co.
Indianapolis Motor

Speedway
Dept. of Parks and

Recreation
Indiana Dept. of

Administration
Indiana Dept. of

Transportation
Indiana University

Health
Indianapolis Airport

Authority
Indiana University

Health
Indianapolis Housing

Agency
Information Services

Agency
Dept. of Public

Works

IndyGo

Indiana

University
Purdue

University
Keep Indianapolis

Beautiful
Indianapolis Fire

Dept.
Public Safety and

Communications

Marion County Superior Courts

IFD

IMPD

AECOM

Hunt
Marion County Clerk's

Office

Indianapolis-Marion County Building Authority

Eastern Star

Church
Small Business

Administration
Indiana

PTAC

USDOT/Office of Small & Disadvantaged Business

WHP

Partners
Community Health

Network
Woolpert

Incorporated
F. A. Wilhelm Construction

Co.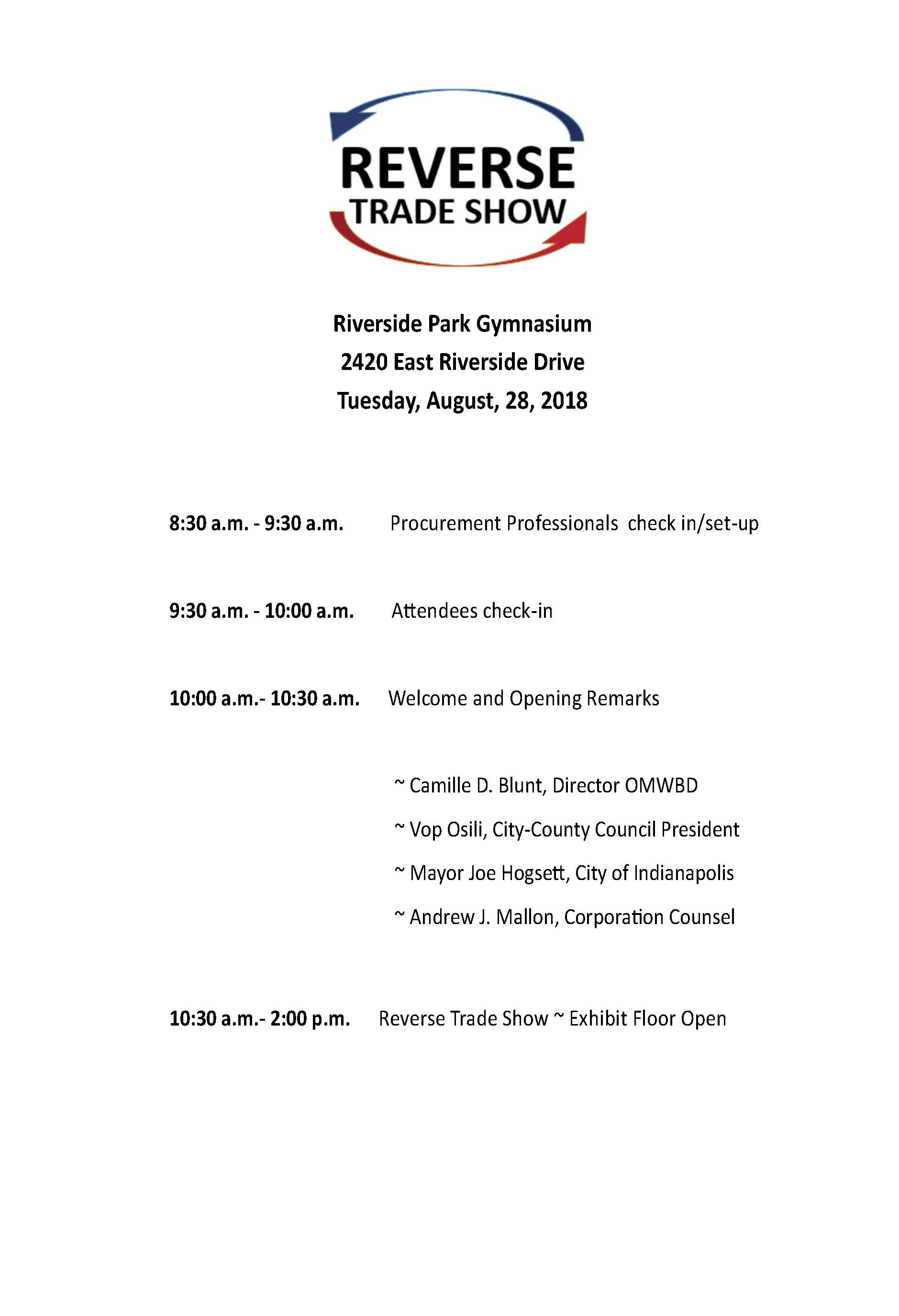 If you have any questions, please contact The Office of Minority & Women Business Development at 317-327-5262 or at OMWBD@indy.gov