Description
SAVE THE DATES -- Monthly Informational Forums for M/WBEs
The City of Fort Worth wants to increase its utilization of minority and women-owned businesses – we need you!
The Next meeting will be held on Thursday, May 18, 2017, at 11:30am – 1:00pm. The calendar at the bottom of the page highlights all future meeting dates.
Current Project(s):
Project: MyH20 Program
Aqua Metric Sales Company was recently awarded the AMI Integration contract with the City of Fort Worth. This contract involves the installation of approximately 252,000 new water meters and radios for the City. The full project value is $73 million. We are currently looking for Texas certified MBE/WBE firms located in the Marketplace (6-counties: Tarrant, Dallas, Denton, Johnson, Parker and Wise) who are interested in subcontracting participation on this project. Full details of the project will be provided at the forums through out the year. Expected implementation date for this project is Second Quarter 2018.
Subcontracting Opportunities for Work Include The Following:
Mobile Cutting of Holes in Meter Box Lids


Vacuuming out water meter boxes

De-Installation and Installation of water meters and radios
....and more.

---
Who Should Attend:
Are you a minority or a woman business owner? You can't quite figure out how to get in the door? Maybe you are looking to diversify your business? At the City of Fort Worth the size of your business does not always matter!
The City of Fort Worth's Monthly Informational Forums are targeted to minority contractors. These forums will serve two purposes; 1) to ensure that firms are fully aware of opportunities to bid on City projects and 2) to identify gaps in experience/training/capabilities that we can try to address early on.
The Office of Business Diversity is here to help diverse businesses gain access to the direct contracting and sub-contracting opportunities offered by city procurement in compliance with the City Council-approved Business Diversity Enterprise (BDE) Ordinance No. 20020-12-2011. Let's talk!
Note: The City of Fort Worth accepts "only" certifications from the NCTRCA and TxDOT.
B.Y.O.L. -- BRING YOUR OWN LUNCH! SPACE IS LIMITED.
Contact: mwbeoffice@fortworthtexas.gov Call: (817) 392-2674
---
To View Details of Upcoming Projects listed below, go to: www.fortworthtexas.gov/purchasing
Bid Open Date Bid Closed Date
17-0322: Police Crime Lab - Consumables May 4, 2017 May 11, 2017
G00037: Playground Improvements At Anderson Campbell Park And Carter Park South (G00051)
May 4, 2017 June 1, 2017
17-0324: RFP - Inspection Audit May 3, 2017 June 1, 2017
17-0288: ITB - Paint Products May 3, 2017 May 18, 2017
17-0332: Eppendorf Thermomixer And Smartblock May 2, 2017 May 10, 2017
17-0303: ITB - Temporary Worker Services May 2, 2017 May 18, 2017
17-0320: ITB - Chip Off Forensic Equipment May 1, 2017 May 18, 2017
17-0297: Police Crime Lab Fume Hood Repair 2017 April 30, 2017 May 10, 2017
17-0316: Summer Day Camp T-Shirts April 30, 2017 May 10, 2017
02696: 2014 CIP Year 3 – Contract 8, Unit 1 April 27, 2017 May 25, 2017
17-0294: ITB - Machine Shop Services And Fabrication April 25, 2017 May 11, 2017
02694: 2014 Water CIP Year 3 – Contract 3 April 20, 2017 May 18, 2017
02223: Marine Creek Interceptor Improvements - Phase I (Sanitary Sewer Replacement – Part I)
April 20, 2017 May 18, 2017
TPW-2018: Tpw-2018-Paving And Sidewalk Improvements Unit Price Construction Contract
April 20, 2017 May 25, 2017
17-0282: RFP-Disaster Debris Monitoring Services April 19, 2017 May 18, 2017
17-0272: RFP - Ozone Generator Equipment And Preventative Maintenance
April 18, 2017 May 18, 2017
17-0291: RFP - Pall Membrane Filtration System Maintenance And Repair Service
April 18, 2017 May 18, 2017
17-0268: ITB - Brass And Ductile Iron Fittings April 18, 2017 May 11, 2017
17-0278: ITB - Pavement Marking Materials And Services April 18, 2017 May 11, 2017
ENV 17-04 Village Creek PST: Env 17-04 Village Creek Pst Project April 13, 2017 May 12, 2017
17-0258: RFP - Global Positioning System (Gps) For Water Meter Location And Service Line Survey
April 12, 2017 May 11, 2017
17-0127: ITB - Roofing Material April 12, 2017 May 11, 2017
17-0280: ITB - Sporting Officials April 10, 2017 May 11, 2017
02302: Edgecliff Village-Wholesale Customer Wastewater Meter Station April 5, 2017 May 18, 2017
002695: 2014 CIP Year 3-Contract 6, Unit 1-Water, Unit 2-Sanitary Sewer, Unit 3-Paving Improvements
April 5, 2017 May 11, 2017
17-0237: RFP - Fy2018 Community Based Programs April 5, 2017 June 1, 2017
17-0062: ITB - Landscape Irrigation Services April 5, 2017 May 11, 2017
00141: Hemphill Street Connection Gmp From Lancaster To West Vickery Boulevard
April 3, 2017 May 9, 2017
17-0245: RFP - Cable Tv, Internet And Dark Fiber Services March 29, 2017 May 11, 2017
To view upcoming bids and request go to: www.fortworthtexas.gov/purchasing
---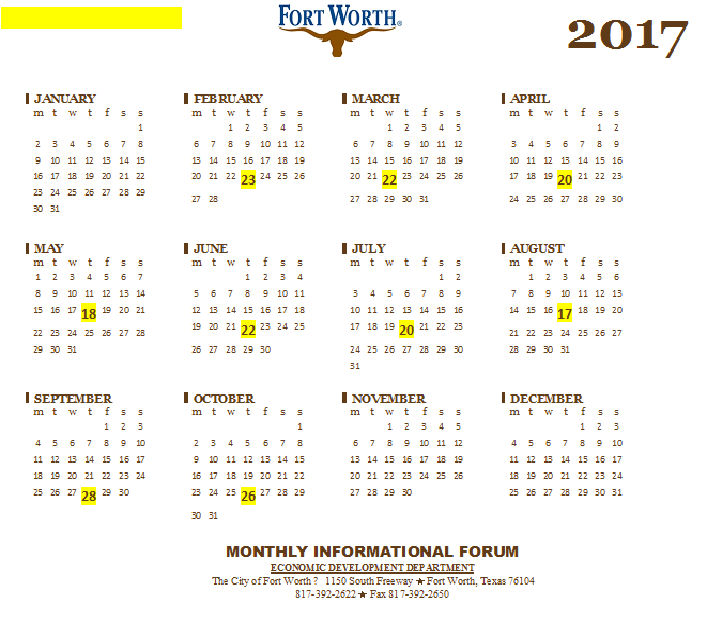 Date and Time
Location
James Guinn Building - Business Assistance Center
1150 South Freeway
Fort Worth, TX 76104