The Summer Rain Barrel Program provides City of Cleveland residents and property owners a chance to obtain a free rain barrel.
About this event
All workshops are FULL!
If you would like to be added to the waitlist for a sold-out workshop, please complete the rain barrel interest form. Should a spot become available, you will be notified.
You may also contact us at sustainability@clevelandohio.gov or reach out to Sustainability Coordinator, Patti Donnellan. Please note that we cannot guarantee a spot or reserve a barrel for those waitlisted. For further questions regarding the workshops please email Patti Donnellan at pdonnellan@clevelandohio.gov or call (216) 664-3972 or (216) 664-2455.
_______________________________________________________________________________
In an effort to reduce stormwater runoff, help residents save money, and engage Cleveland youth, the Summer Rain Barrel Program provides City of Cleveland residents with rain barrel systems free of charge. At the workshop, you will learn more about the Northeast Ohio Regional Sewer District's Stormwater Management Program and Individual Residential Property Credit; learn how to properly care for your rain barrel; see how rain barrels are assembled; TAKE HOME A FREE RAIN BARREL!
In order to participate, you MUST:
Be a homeowner within the Northeast Ohio Regional Sewer District (NEORSD) and Cleveland Division of Water (CWD) service area.
Complete rain barrel installation following the workshop by installing the downspout diverter and properly connecting the rain barrel.
Agree to all Terms and Conditions stated in this Eventbrite registration form.
Register for only one rain barrel per address/workshop attendee.
Current Dates: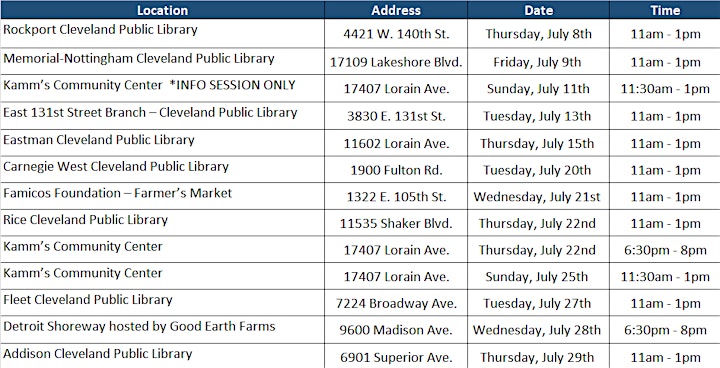 **One rain barrel per address/workshop attendee.
*Please register only ONCE. Multiple registrations will be deleted.
Note the date & location that you choose, as Eventbrite will indicate July 8th in your confirmation email.
For questions pertaining to the Stormwater Fee or Fee Credit, please call NEORSD Customer Service at 216-881-8247.
Organizer of City of Cleveland 2021 Rain Barrel Program (SOLD OUT!)
Managed by the City of Cleveland Mayor's Office of Sustainability, Sustainable Cleveland engages people from all walks of life, working together to design and develop a thriving and resilient Cleveland region that leverages its wealth of assets to build economic, social and environmental well-being for all.

Questions? Please call us at 216-664-2455 or email sustainability@clevelandohio.gov