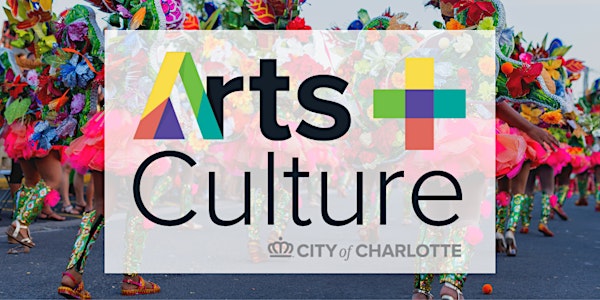 City of Charlotte Arts and Culture Plan VIRTUAL Kick-Off Event
An event that asks: What do art and culture mean to you? Where do you experience art and culture in Charlotte and Mecklenburg County?
About this event
The City of Charlotte is creating the Charlotte Arts and Culture Plan to sustain and grow the creative sector in Charlotte and Mecklenburg County, and we need to hear from YOU!
Our Virtual Kick-Off Event will be hosted via Zoom. Attendees will help us shape the future of arts and culture by sharing perspectives, priorities and experiences.
We want to hear from artists and Charlotte-Mecklenburg residents of all ages and backgrounds. You will hear from City of Charlotte leadership, the consultant team from Lord Cultural Resources, and have the opportunity to make your voice heard. We hope you can join us!
What you can expect:
Asset Mapping Activity: Where does art and culture occur in Charlotte- Mecklenburg?
Welcome from the City of Charlotte arts and culture officer.
Feedback breakout groups where you can weigh in on the future of local arts culture.
Information about the plan that you can share.
What is an Arts and Culture Plan?
An arts and culture plan collects data from across communities, builds consensus among residents and creatives, and creates agreement on a vision for arts and culture. This vision is then used to create policy frameworks, funding strategies, and an actionable plan to cultivate and support a thriving, sustainable arts and culture community that benefits everyone.
Why create an Arts and Culture Plan for Charlotte?
Arts and culture are central to providing a vibrant quality of life for all people, and play an important role in economic development by supporting local businesses and attracting new residents and visitors to a city. Studies show that arts and culture benefits communities in many ways: enriching education, improving mental and physical health, increasing public safety, fostering innovation, and more.
Photo Release
By attending this event you agree to this statement:
I understand while participating in this activity, I may be photographed. I agree to allow my photo, video, or film likeness to be used for any legitimate purpose by the activity holders, producers, sponsors, organizers, and assigns.
This event is hosted in partnership with the City of Charlotte, Lord Cultural Resources and Civility Localized. Please email outreach@cltartsandculture.org for questions.