City of Champions 5k Walk/Run
About this Event
City of Champions 5k is presented by 40 Love Foundation in collaboration with the City of Inglewood. The purpose of this 5k is to create a community event that will promote healthy living and start the much needed conversation about developing our youth and building strong leaders. This conversation consist of year long programs and activities which help prevent and address the everyday struggles of our youth in the City of Inglewood and neighboring communities. 40 Love's vision is to use the sport of tennis to cultivate strong athletic talent, overall mental & physical health, and community outreach. Our mission is to expand the level of tennis diversity within the sport and invest in the communities of which our programs are installed. We prepare our participants to reach their highest potential to be successful in every stage of the game of tennis and in life. We empower our youth by teaching the importance of mentorship, teamwork, self-appreciation, humility, education, and discipline.
Our 2019 5K event, 'City of Champions 5K Walk & Run, is themed 'Who is the champion in your life?".
Do you have someone in your life who motivates you or inspires you? Or do you know someone who is strong willed and doesn't give up no matter what life throws at them? Then come out and represent that person and run for your champion!
This year we celebrate Jess Asper, who lost his battle with Primary Progressive Aphasia (PPA) earlier this year. 40 Love Foundation was founded primarily because of Jess and he is our champion that we will uplift and honor with this event. His contribution to creating leaders out of the youth through tennis and his determination and commitment to his battle with PPA is worth celebrating and remembering.
Funding for this event will assist us in continuing our existing tennis programs, expand our educational programs, and create our mental awareness tennis workshops. This will allow us to continue to bridge the opportunity gap in the inner-city communities. We want our youth to experience every opportunity and dream unimaginable dreams.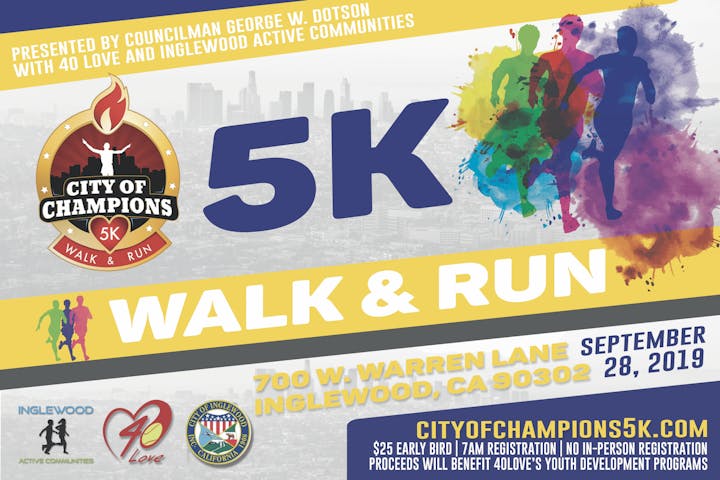 COMMUNITY
WHAT IS THE COST TO RUN IN THE CITY OF CHAMPIONS 5K?
The entry fee to participate in the City of Champions 5k is $25 and will benefit inner community youth development programs that cultivate self-appreciation, overall health, education, and community outreach.
WHAT IS THE DATE OF THE RACE?
The City of Champions 5k will take place on Saturday, September 28, 2019.
WHERE IS THE RACE TAKING PLACE?
The City of Champions 5k will take place at Edward Vincent Park around it's beautiful run path.
HOW DO I GET THERE?
We are encouraging runners to leave their cars at home on September 28, 2019. Public transportation will be available on race day. If runners must drive, parking will be available on a first come-first serve basis at the park. Five (5) designated parking lots will be marked and accessible the day of the 5k.
Participant Self-Parking: Limited parking will be available. Public transit, bike, or ride share is highly recommended. Five (5) designated parking lots will be marked and accessible the day of the 5k.
Spectator Parking: Spectator parking is also available and will be directed towards street parking.
WHAT TIME DOES THE CITY OF CHAMPIONS 5K START?
The City of Champions 5k will begin registration sign-in at 7:00am. Runners must be in their corrals by 8:00am.
WHAT TIME CAN I ARRIVE?
Corrals and pre-race amenities will open at 7:00am.
WHERE CAN I FIND THE ROUTE INFORMATION?
Please continue to check the home page for the route information.
WHAT IF IT RAINS ON SEPTEMBER 28TH?
The City of Champions 5K is a rain or shine event.
WILL THERE BE SOMEWHERE TO STORE MY BELONGINGS AT THE CITY OF CHAMPIONS 5K?
No, gear check will not be available. Please leave unnecessary belongings in your vehicle. We recommend that you travel light.
WILL THERE BE WATER ALONG THE COURSE?
Water will be provided at check-in, along the course, and at the finish line.
WHAT ITEMS ARE PROHIBITED AT THE CITY OF CHAMPIONS 5K?
The City of Champions 5k prohibits firearms or sharp objects, explosives, sparklers, confetti or smoke cannons, drugs, alcohol, animals (except required by state law), pop-up tents, tailgating, selfie sticks, drones, coolers, chairs, strollers, skateboards, rollerblades, bikes (on-course).
*prohibited list subject to change
PARTICIPANTS
WHO CAN PARTICIPATE IN THE CITY OF CHAMPIONS 5K?
Anyone thirteen (13) years of age or older can participate.
CAN WHEELCHAIR ATHLETES PARTICIPATE?
Yes, wheelchair athletes are welcome to participate. Note: Hand-cycles, hand-bikes, hand-cranks, nor lever-driven devices will not be permitted in the event.
ARE SPECTATORS ALLOWED TO ATTEND THE CITY OF CHAMPIONS 5K TO SUPPORT THE RUNNERS?
Yes, we gladly invite spectators to support runners. Spectators will be allowed in the Runners Circle. NO spectators will be allowed on course.
WILL THIS RACE BE TIMED?
This race will be self-timed.
IS THE CITY OF CHAMPIONS 5K A CERTIFIED COURSE?
No, this race is not USATF-certified.
WILL THERE BE AN ELITE DIVISION?
The City of Champions 5k will not include an elite division.
WILL THERE BE PACERS AT THE CITY OF CHAMPIONS 5K?
There will not be pacers nor pace groups during the race.
IS THERE A PACE CUTOFF FOR THE RACE?
All participants must maintain a 15:00min per mile pace during the race.
WHAT IF I DO NOT MAKE THE PACE CUTOFF TIME?
For safety reasons, participants unable to keep a 15:00min per mile pace will be picked up by a course-certified vehicle and taken to the Runners Circle.
REGISTRATION
HOW DO I REGISTER FOR THE CITY OF CHAMPIONS 5K?
Visit eventbrite.com/cityofchampions5k to register for the race. You can also click the register button on the homepage.
MAY I REGISTER AS A GROUP?
Yes, you can register as a group with 5 or more people and also as a corporation with 10 or more people.
WHAT IF I REGISTERED FOR THE RACE AND HAVE BECOME INJURED OR AM NOW UNABLE TO ATTEND?
All race entries are non-refundable. There are no refunds for cancelled entries. We are unable to transfer entry fees to any future events.
CAN I TRANSFER MY REGISTRATION TO ANOTHER RUNNER?
No. Your registration and race bib are non-transferable due to liability reasons.
BIB PICK-UP
WHAT DO I NEED TO BRING WITH ME TO PICK UP MY RACE BIB?
You must present your race confirmation email and one form of state or government-issued photo ID (i.e. driver's license or passport) at registration.
All runners between the age of 13-17 years old without a government-issued photo I.D. must have a parent or legal guardian with an acceptable form of government-issued photo I.D. accompany them to registration.
All runners under the age of 18 must also bring their waiver signed by their parent or legal guardian in order to pick up their race bib. A parent may also accompany them to complete the required waiver on-site.
CAN SOMEONE ELSE PICK UP MY RACE PACKET ON MY BEHALF?
No. Runners must pick up their own race packet due to liability reasons. There will be no exceptions.
WHEN/WHERE CAN I PICK UP MY RACE BIB?
There will be a designated tent marked for registration and bib pick up at 7:00am.
DO I GET AN OFFICIAL RACE SHIRT WITH MY REGISTRATION AND PACKET?
Official race shirts will be available in the Champions Circle after the race.
VOLUNTEERS
HOW CAN I VOLUNTEER?
We welcome your participation as a volunteer! The event will need hundreds of volunteers to staff the aid stations, work the Champions Circle, and offer support to the runners at the start and finish. All volunteers will receive an official race volunteer shirt. To volunteer at the City of Champions 5k please click here
AWARDS
DO ALL RUNNERS RECEIVE A MEDAL OR CERTIFICATE?
Each City of Champions 5k finisher will receive a finisher's award.
DO RUNNERS HAVE TO FINISH THE COURSE TO RECEIVE THE OFFICIAL FINISHER'S AWARD?
To be recognized as a finisher you must wear your bib and complete the entire course by the specified cut-off time.
OTHER CUSTOMER SERVICE QUESTIONS
HOW DO I CONTACT CUSTOMER SERVICE?
Please contact customer service at 424-378-2598 or Cityofchampions5k@gmail.com.