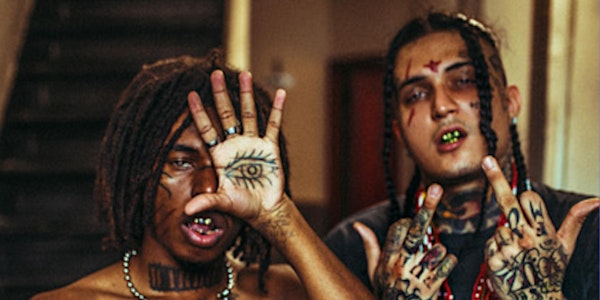 City Morgue
ALL AGES
THE AS GOOD AS DEAD TOUR
Slim's Presents City Morgue with TOKYO'S REVENGE and NYCL Kai
When and where
Location
Slim's 333 11th Street San Francisco, CA 94103
Performers
Headliners
More Performers
About this event
On Sale: Friday, 11/22 @ 10am
Doors 7 / Show 8
The melding of Rock and Rap is a concept that's existed within the underbelly of music for decades, yet few have done what City Morgue is about to do. When upstarts SosMula and ZillaKami come together, their fusion is seamless—oozing true skill with a reckless lack of fucks left to give. As the supergroup readies their collective debut mixtape City Morgue Vol. 1: Hell or High Water, the dynamic duo delivers a new and exciting vibe for any fan of true music—from hip-hop to metal. It's City Morgue season. Get ready.
With countless cuts on Soundcloud, a successful run at SXSW, plus an aesthetic that unifies the early days of Punk with extensive Ink (the two have anecdotes for every tattoo on their bodies), the time is now to bring City Morgue's first collective project to the streets. City Morgue Vol. 1: Hell or High Water will continue the movement that two have forged, with more tracks that reach a wider audience. "Downer," is rooted in melody, with an ambiguous title as Zilla is straight edge, while Sos is the exact opposite. Songs like "Grave Hop" and "P.T.S.D." continue along that similar vein, while "Lamborghini Getaway" and "Snow On The Bluff" turn a corner into mainstream. It's an experience anyone can appreciate and shows what happens when two worlds meet to form an entirely new planet.
The Hikari-Ultra/Republic Records signees have already shown a significant track record of hits in a relatively short amount of time, and it won't stop there. Vol. 1 is the first of many City Morgue collaborations, but both SosMula and ZillaKami will be bringing their solo flavors to the forefront in the very near future.