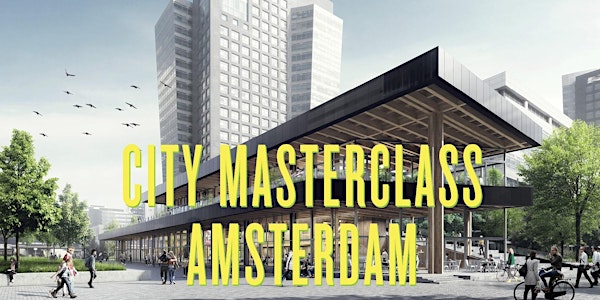 City Masterclass IN Amsterdam
When and where
Location
CIRCL 1B Gustav Mahlerplein 1082 PP Amsterdam Netherlands
Refund Policy
Contact the organizer to request a refund.
Description
PierreEen avondbijeenkomst in CIRCL, de nieuwe hotspot van Amsterdam.
Donderdag 26 oktober van 18.00 – 21.15 uur
CIRCL, de nieuwe circulaire ontmoetingsplaats op de Zuidas, Gustav Mahlerplein 1B Amsterdam.(een initiatief van ABN AMRO)
Thema: Uitdagingen voor de groeiende stad
Wat?
Op donderdag 26 oktober organiseert VG Visie vanuit de nieuwe spraakmakende hotspot van Amsterdam CIRCL op de Zuidas een avondvullende bijeenkomst over uitdagingen voor de stad Amsterdam. De stad is het ultieme podium voor ontmoeting en verbinding. Amsterdam een kraamkamer van innovatie en creativiteit. Een stad die je steeds weer versteld laat staan omdat er zoveel gebeurt. De stad die die door haar ontwikkeling ook prima aansluit bij de eisen van deze moderne tijd. Maar door de grote aantrekkingskracht ook grote uitdagingen kent.
Vanuit CIRCL spreekt een keur aan gasten over de uitdagingen op het gebied van wonen, werken, winkelen en recreëren. Hoe liggen de verhoudingen in de hoofdstad en wie zet de toon?
Voor wie?
Deze avond is een aanrader voor investeerders, bestuurders, beleidsmakers, centrummanagers, stedenbouwkundigen, directieleden van corporaties, ontwikkelaars, experts, city marketeers, planologen en vastgoedeigenaren.
Waar?
Locatie: CIRCL

ZUIDAS Gustav Mahlerplein 1B Amsterdam.
Toegangsprijs: € 195,00 excl. btw inclusief koffie, thee, hapjes & netwerkwerkbijeenkomst
Programma en line up:
18.00 uur Inloop en registratie, eten & drinken, kennismaken en mensen ontmoeten
18.45 uur Start inhoudelijk programma o.l.v. Rupert Parker Brady
Aftrap: Toekomstvisie op Amsterdam
Tijd: 18.45 uur- 18.55 uur: Igor Beuker Trendwatcher
Debat: Wonen in Amsterdam. Een levendig tafelgesprek met sleutelspelers over uitdagingen, kansen, samenwerken en projecten.
19.00 uur – 19.30 uur
Pierre van Rossum - gemeente Amsterdam Ontwikkelingsbedrijf & grondzaken

Henk Brouwer, directeur Breevast

Peter Heuvelink- directeur AM Noordwest

Rob Vester directeur Ontwikkelingsbedrijf Syntrus Achmea R&F

Harm Janssen, directeur Regio Noord-West BPD

Igor Beuker- Trendwatcher
Korte pauze: 19.30 uur – 19. 45 uur:
Debat: De duurzame stad: Nieuwe inzichten op het gebied van duurzaamheid, innovatie, ruimtelijke ordening en werk.
Tijd: 19.45 uur- 20.20 uur
Charlotte Griffioen, director/ senior architect MVSA Architects

Danielle Gans,

Directeur Real Estate regio NoordWest Nederland

Joris Deur, architect en partner ZZDP Architecten

Igor Beuker- Trendwatcher
Netwerk Borrel 20.30 uur -21.30 uur.
Lancering van de derde editie van het magazine IN Amsterdam,
een uitgave van VG Visie.
Alvast hartelijk dank voor uw aanwezigheid.
Wij hebben er in elk geval veel zin in.
Graag tot ziens op 26 oktober.
Hoofdsponsor:
FUNDA IN Business
Subsponsoren: NVM BUSINESS & ABN AMRO
Voor vragen kunt u contact opnemen met:
Erwin Asselman
T: 06-51268407
E: erwin@publicspacemedia.nl
Directeur en uitgever VG Visie & IN Amsterdam
Nadere informatie: www.vgvisie.nl