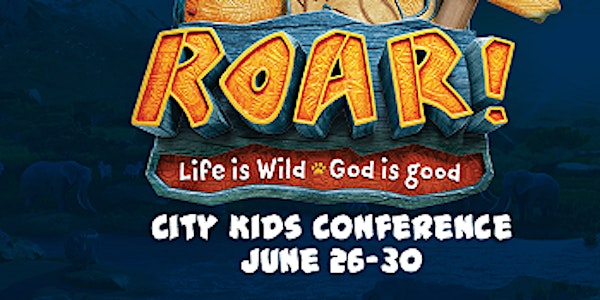 City Kids Connection Conference and Vacation Bible School
Location
City of Praise Family Ministries
8501 Jericho City Drive Landover, Maryland 20785
Landover, MD 20785
Sales Have Ended
Registrations are closed
Sorry. Please visit the City of Praise Family Ministries on Sundays at 10 am.
Description
COPFM 2019 City Kids Konnection Conference & Vacation Bible School And Parenting Workshops Wednesday June 26th to Sunday June 30th At the 2019 City Kids Konnection Conference and Vacation Bible School (VBS) kids will go on a safari and learn that God Is Good!
STEPS TO REGISTER
1. CLICK THE RED BUTTON (SELECT A DATE) TO OBTAIN TO ACCESS THE REGISTRATION PAGES FOR EACH DAY OF THE CITY KIDS CONNECTION CONFERENCE. PLEASE OBTAIN A FREE TICKET FOR EACH DAY BEFORE LEAVING THIS EVENTBRITE SITE.
2. CLICK THE GREEN BUTTON AND DROP DOWN MENU TO ORDER FREE TICKETS FOR MEALS AND EVENTS.
3. BE SURE TO REGISTER FOR EACH DAY THAT YOU OR YOUR CHILD WILL ATTEND.
4. AFTER OBTAINING TICKETS, USE THE KIDCHECK LINK BELOW TO COMPLETE YOUR REGISTRATION.
https://go.kidcheck.com/webforms/eventregistration.aspx?eventid=16554&valid=9d9a7c23c3fef5fcdccf9ed4631a33b1
Registration will help us to have enough food and supplies for your children.
---
KIDS WILL ROAR!
They will also celebrate God's ferocious FAITH and discover their God given ROAR and POWER to SOAR! Kids will learn more about their personal ROAR through exposure to acting, crafts, stepping, sign language, helping hands and so much more.
PARENTS WILL ROAR!
Parents will re-discover their ROAR at our FAITH filled dynamic Parent Konnection Classes held each evening during the VBS sessions.
FAMILIES WILL ROAR!
On Saturday, we will be treated to ZUMBA and a Children's Health and Safety Fair followed by a Talent Show showcasing the ROAR of all kids in attendance.
VBS SUNDAY WILL ROAR!
Join us on VBS Sunday as we worship together and celebrate the conclusion of the Kids Konnection Conference & VBS.