Description
Thanks to the overwhelming support for the event, all general admission tickets for the 3rd Annual City Club Business Tech Conference is now sold out!
---------------------------------------------------------------
3rd Annual City Club Business Technology Conference
Empowering Rapid Business Growth Through Latest Tech Knowledge!
Come learn the latest tech trends and practices in the fields of Marketing, Sales, and Operational Efficiency for businesses from a group of business technology experts and network with over hundreds of business owners and C-suite executives around LA!
Here is a short video preview of the upcoming event:
Keynote Speakers:
+ The Major Tech Trends That Are Changing Our Business Landscape - James Hsieh, Cybertegic
+ The Mindful Approach to Surviving Industry Disruption - Ankit Brahmkshatri, Disney
+ Creating Scalable Operation That Enables Rapid Growth! - Laura Honeycutt, SAP
---
Tech Track 1: Increase Your Business Leads and Sales!
+ How to use online video to win attention, win trust, and win business! - Studio Los Feliz
+ Increase your revenue with the latest tactics in digital marketing! - Cybertegic
+ The secret of converting your LinkedIn leads into sales! - Sandler Sales Training Experts
+ How to promote your professional service business effectively! - Yelp
---
Tech Track 2: Maximize Your Operation Efficiency and Reduce Cost!
+ How real-world businesses leverage ERP software to scale and become more profitable? SAP/Vision33
+ Top 5 strategies on how real-world businesses leverage ERP software to become more profitable! SAP/Vision33
+ Secret tactics to reduce your shipping cost by using technology and negotiation! - Reveel
+ What is Digital Transformation and why is it vital to your company's competitive advantage? - Visus
Event Schedule:
4:00 pm to 4:30 pm - Check-In and Registration
4:30 pm to 5:30 pm - Industry Trends By Keynote Speakers
5:30 pm to 7:00 pm - Workshops By Industry Experts
7:00 pm to 8:00 pm - Business Expo, Networking, and Cocktail Reception
We will also be raffling out prizes such as a 65" Smart TV, Amazon Echos and Google Home Minis!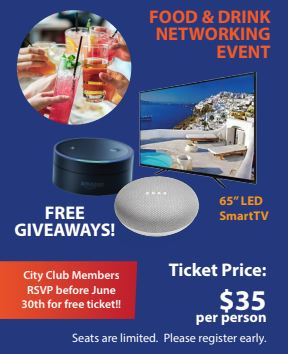 Seats are limited, register early for this event if interested.
SPONSORS: This year, we anticipate over 150+ Business' CEO, CMO, and CTO will be attending the event. If you are interested in sponsoring the event, please contact James Hsieh at 626-888-1509 or email james.hsieh@cybertegic.com.