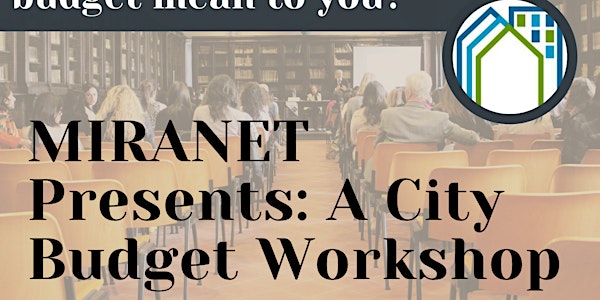 City Budget Workshop
MIRANET is organizing a workshop on the City's budget with the Treasurer of the City of Mississauga
About this event
Did you have questions about the City's budget but never knew who to ask?
What does the City's budget mean to you?
How is the annual budget compiled and approved?
How would you improve and City's online Budget Allocator?
How does the annual budget increase impact property taxes?
What is the role of the Municipal Property Assessment Corporation (MPAC)?
To answer all these questions, and more, attend our FREE workshop!
You are invited to a MIRANET virtual workshop on Wednesday, February 23 at 7pm
Guest Speaker: Jeffrey Jackson, City Treasurer
The workshop will be divided into three sessions with a 15-minute question and discussion period for each
This is an educational workshop. Please bring your questions and consider how the City's budget process might be improved
A Zoom link will be emailed to all registrants.
Want to know more? Contact MIRANET at info@miranet.ca