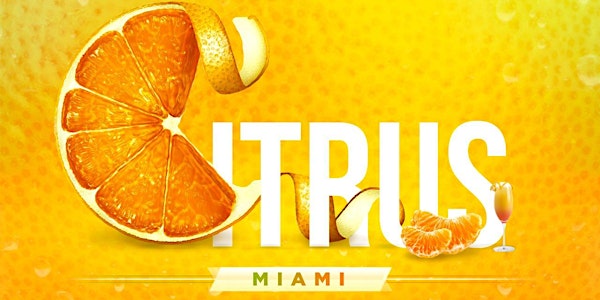 Citrus Miami
When and where
Location
The Orchard Miami, FL 33132
Description
A Premium All-Inclusive Tropical Experience.
"The Sweetest Fete on Miami Carnival Friday".



Aurora and Candy Coated Events welcome you to our Carnival Resort on the shores of Miami this October 2018. Enjoy a Premium All Inclusive Experience like none other as we bring the Tropics to you with Gourmet Food and Top Class Drinks. Travel to Citrus Miami with your friends and family, be our guests as our Choice Caribbean Entertainment keep you vibing at The Orchard. Come celebrate the greatest time of the year in Miami for Carnival 2018 with a unique upscale Carnival Experience brought to you by two of the top Caribbean Event Producers from Miami and Trinidad and Tobago. Aurora and Candy Coated Events, the creators of events such as Aurora Bubbles and Brunch and New Years Eve, Candy Coated Cruise and Wine Down Tobago present: CITRUS MIAMI.
It's Refreshing.
It's Juicy.
It's Sweet.
It's CITRUS.
Sunglasses and Shades of CITRUS
Pure Premium Caribbean Vibes
Top-Shelf drinks will be flowing, and an unlimited gourmet buffet will be at your fingertips all evening.
Come celebrate the greatest time of the year and as usual leave your wallets and your worries behind because... when we say All-Inclusive, we mean it!
Station 1: Roasted Pepper Shrimp | Spicy Seasoned Mini Roti | Secret Garden Vegetable Lo Mein | Orange Infused Chicken

Station 2: Slow Cooked Pumpkin Soup | BBQ Jerk Chicken Kebobs with Festival | Deep Fried Chicken Wings | Sweet Potato Fries | French Fries

Station 3: Lobster Bites | Crab Rice | Mac & Cheese

Station 4: Seafood Paella | Veggie Paella |
Gluten Free Vegan Options: Vegan Fajitas | Vegan Quinoa Salad

Station 5: Salmon Burger | Hero Burger | Field Burger

Cupcakes: Pineapple Coconut | Passion Fruit | Vanilla with a Grapefruit swirl | Tequila Sunrise

Truffle Balls: Key Lime | White Chocolate Lemon)

Madelines: Lemon Glaze | Vanilla

Mini Donuts: Pink Grapefruit | Glazed

Cake Shooters: Lemon Berry | Pineapple Upside Down

Tarts: Tangerine | Citrus

Lemon Crumble Bar

Blue Berry Bundt Cake

Lemon Cake with Cream cheese frosting



Top-Shelf ONLY Bar:
Rum

– English Harbour Rum

Vodka – Tito's Hand Made Vodka and Ciroc flavors (Peach, Coconut, Mango)
Gin – Bombay Sapphire and Hendricks
Tequila – Patron Silver
Whiskey – Jack Daniels and Johnnie Walker: Black Label
Cognac – Hennessy
Champagne – Brut and Rosé


Top Entertainers:
Selecta Renegade - Skorch Bun IT!

Kevin Crown - The Natural Born Club Killer

LLCOOLBLAZE x Patrick - Miami Bad Boy and The Hypeman

Charlotte x Fingal - Shelly an Wet Boss

Jus Jay - The Fete Boss from BIM!

Dei Musicale - Musical Gods

Shep Beats x Konata - The UK Carnival Ambassadors
For bookings, or additional info, please call: 754-400-0960 or email info@welovecitrus.fun
---
Nearby Hotels:
Miami Marriott Biscayne Bay- $249
1633 N Bayshore Dr, Miami, FL, 33132
o 0.7 miles to Citrus
o 5.7 miles to Miami International Airport (MIA)

DoubleTree by Hilton Grand Hotel Biscayne Bay- $217
1717 N Bayshore Dr, Miami, FL, 33132
o 0.7 miles to Citrus
o 5.7 miles to Miami International Airport (MIA)

ME Miami by Melia- $207
1100 Biscayne Blvd, Miami, FL, 33132
o 0.8 miles to Citrus
o 5.7 miles to Miami International Airport (MIA)

YVE Hotel Miami- $167
146 Biscayne Blvd, Miami, FL
o 0.8 miles to Citrus
o 5.8 miles to Miami International Airport (MIA)

Hampton Inn & Suites by Hilton Miami Brickell Downtown- $161
50 SW 12th Street, Miami, FL, 33130
o 1.8 miles to Citrus
o 5.7 miles to Miami International Airport (MIA)

Hampton Inn & Suites Miami Midtown- $144
3450 Biscayne Boulevard, Miami, FL, 33137
o 1.9 miles to Citrus
o 5.6 miles to Miami International Airport (MIA)

SpringHill Suites Miami Downtown/Medical Center- $127
1311 NW 10th Ave, Miami, FL, 33136
o 2.0 miles to Citrus
o 4.3 miles to Miami International Airport (MIA)