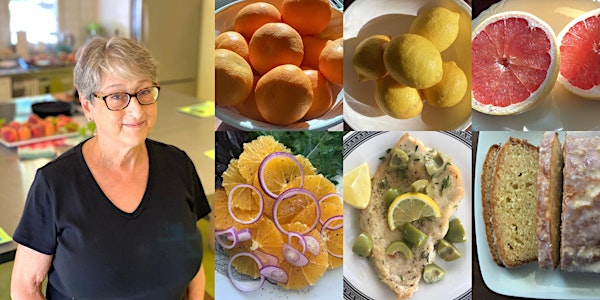 Citrus Celebration, a Winter Lunch with Miriam Rubin
Celebrate the seasonal citrus fruits of winter in a class and lunch with Miriam Rubin
When and where
Location
HGS Home Chef 2635 Route 23 Hillsdale, NY 12529
Refund Policy
Contact the organizer to request a refund.
About this event
Join us as we celebrate the seasonal citrus fruits of winter in a class certain to brighten any winter day. Oranges, lemons and grapefruit range from sweet to tart, creating flavors that enhance a wide variety of sweet and savory dishes.
In this class Miriam will demonstrate how to prepare four yummy recipes that highlight the special qualities of each fruit. We'll begin with a creamy Greek egg-lemon soup. Orange salad with red onions will accompany an elegant sauteed chicken with velvety Castelvetrano olives, lemon, shallots and fresh thyme, and finally, for dessert a moist, beautifully pink glazed grapefruit cake.
We hope you'll join us in our Hudson Valley, Berkshire kitchen for this zesty winter class. We know you'll want to recreate these dishes at home (the extra vitamin C is an added bonus!).
Menu to include:
Avgolemono (Egg-Lemon Soup with Orzo and Dill)
Orange Salad with Red Onion
Sauteed Chicken Cutlets with Lemon, Castelvetrano Olives and Thyme
Glazed Pink Grapefruit Cake
This demonstration class (plus lunch!) is limited to ten lucky people.
About Miriam Rubin:
A graduate of the Culinary Institute of America, Miriam was the first woman in the kitchens of NYC's famed Four Seasons Restaurant. She's a former food editor of Weight Watchers Magazine. Her first cookbook, Grains, was published in 1995. For nine years, she wrote a food and garden column "Miriam's Garden" for the Pittsburgh Post-Gazette and has contributed features to their food pages for about two decades.
Her work has appeared in Prevention, Organic Gardening, Redbook, Working Woman, Working Mother and Woman's Day. She was line-editor for Gil Marks' Encyclopedia of Jewish Food and has contributed to The Encyclopedia of Appalachia and The Oxford Encyclopedia of American Food and Drink Vol. 2. She's Americanized several cookbooks and reworked and Americanized British recipes for websites.
Her book, Tomatoes, grew out of a love of planting and devouring a favorite vegetable (fruit). She presented on the book at the Harvest Festival at Monticello and at Beard on Books at the Beard House. Miriam and her husband have recently relocated to the Hudson Valley from Southwestern Pennsylvania.
Cancellation policy: We do not offer refunds on purchased tickets. Persons who notify us at least seven (7) days in advance that they cannot attend may receive credit and register for another class of equal value held within the subsequent two months if a class is available.
Cooking class attendees receive 10% discount on kitchenware purchases on class day.
HGS Home Chef is a member of TheWorkshopExperience.org, a group of friends who produce exceptional experiential learning through classes and workshops on a wide variety of topics in and around Hillsdale, NY - at the crossroads of the Hudson Valley and Berkshires.