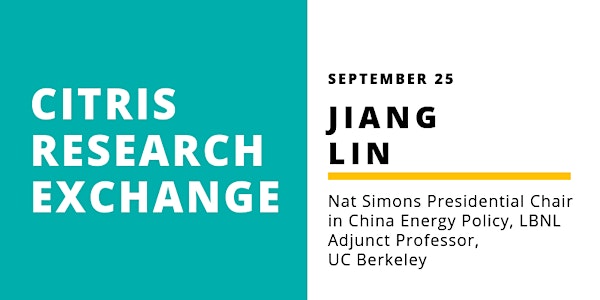 CITRIS Research Exchange - Jiang Lin
CITRIS Research Exchange delivers fresh perspectives on information technology and society from academic, industry, and civic leaders.
When and where
Location
UC Berkeley, Sutardja Dai Hall: Banatao Auditorium 2594 Hearst Avenue UC Berkeley Berkeley, CA 94720
About this event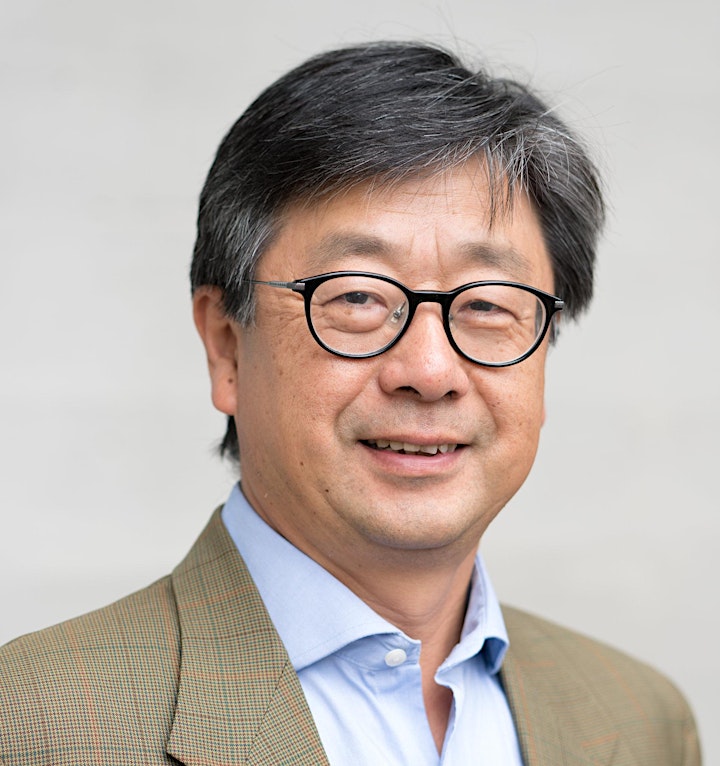 CITRIS Research Exchange with
Jiang Lin
Nat Simons Presidential Chair in China Energy Policy, LBNL
Adjunct Professor, UC Berkeley
"Sunsetting Coal Power in China"
About the Talk:
Recent Intergovernmental Panel on Climate Change (IPCC) estimates suggest that the world needs to reach net-zero emissions around 2050 to limit global warming to 1.5°C above pre-industrial levels. The power sector accounted for 37% of global CO2 emissions in 2017 and contributed to nearly two-thirds of emissions growth in 2018. China's power sector alone accounts for 13-15% of global energy-related CO2 emissions, given its heavy reliance on coal. Thus decarbonization of China's power sector by reducing its reliance on coal generation is one of the largest drivers to reduce global emissions. With electrification in China's transportation, building, and industrial sectors, a near-zero emission electricity sector could play an even bigger role in reducing China's, as well as global, CO2 emissions.
In this talk, I will discuss our new visioning analysis on one potential pathway to decarbonize the power sector in China. In particular, the conditions under which installed coal capacity and coal generation in China could be substantially reduced or completely replaced by 2040. We find that reducing and ultimately retiring all of China's coal generation capacity over the next two decades may be technically and economically feasible, but doing so will require a significant scale-up of deployment of solar, wind, and storage technologies. Additionally, all the new electricity demand will need to be met with non-coal generation and all existing coal generation will need to be replaced with non-coal generation at least by the end of its original depreciation schedule. Institutional changes would also be required to facilitate the transition to a clean power system in China by 2040.
About the Speaker:
At the Lawrence Berkeley National Laboratory, Jiang Lin holds the Nat Simons Presidential Chair in China Energy Policy and serves as staff scientist for the China Energy Group. At UC Berkeley, Lin is an adjunct professor at the Department of Agricultural and Resource Economics. Lin's research focuses on energy and climate policy, energy and emissions pathways, electricity market and planning, low-carbon economic transition, and appliance efficiency issues in China. He co-directs the Berkeley-Tsinghua Joint Research Center on Energy and Climate Change, a collaborative initiative between Berkeley Lab, UC Berkeley, and Tsinghua University in China.
Lin directed the Energy Foundation China Sustainable Energy Program from 2007 to 2013 and was its senior vice president for strategy and analysis from 2014-2016 -- managing the growth of Energy Foundation China into one of the largest international NGOs devoted to promoting clean energy and climate solutions in China. Before joining the Energy Foundation, Lin was at LBNL conducting research in the Appliance Standards and China Energy Groups from 1994-2007.
Lin has a PhD in Demography from UC Berkeley, an MS in Population Studies, and a BS from the Department of Cybernetics Engineering from Xi'an Jiaotong University, China.
About CITRIS Research Exchange:
Launched in 2008, CITRIS Research Exchange delivers fresh perspectives on information technology and society from distinguished academic, industry, and civic leaders. CITRIS Research Exchange is free and open to the public. Each one-hour seminar starts at 12 pm and is hosted at the Banatao Auditorium in Sutardja Dai Hall on the UC Berkeley campus unless otherwise noted. Register by the Monday prior to the event to receive lunch.
----------
Live broadcast at https://www.youtube.com/user/citrisuc/live
All talks may be viewed on our YouTube channel: https://www.youtube.com/user/citrisuc/playlists
Sign up to receive the latest news and updates from CITRIS: http://bit.ly/SubscribeCITRIS