CITRIS Research Exchange delivers fresh perspectives on information technology and society from academic, industry, and civic leaders.
About this Event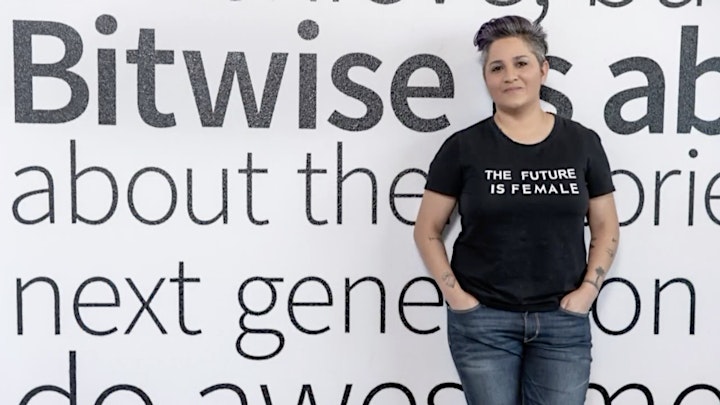 CITRIS Research Exchange with
Irma Olguin Jr., Chief Executive Officer and Co-Founder, Bitwise Industries
How Diversity and Inclusion Save the Tech Industry
About the Talk:
When you think of the tech industry, what cities come to mind? San Francisco, Los Angeles, New York, or Boston? While I respect what has been done in those regions, I believe that the technology industry could do more for people in areas outside traditional tech hubs. In 2013, I co-founded Bitwise Industries and dared to take a chance on the people of my hometown, Fresno, Calif. by building a tech hub in an unlikely place. This year, Bitwise secured one of the largest series A rounds ever by a Latinx female led company; our approach is expanding nationally, and I want to talk about how betting big on people is the way forward for the tech industry.
About the Speaker:
In 2013, Irma L. Olguin Jr. decided to build a company focused on strengthening the tech industry in Fresno, Calif. and leveraging it as the economic driver to remake the city. Bitwise Industries now operates with the goal of activating human potential for the technology industry in underdog cities across the United States.
As CEO and co-founder, Irma oversees the company's operations teams, as well as the technology-focused training program of Geekwise Academy, and software development firm, Shift3 Technologies. A main component of her role is ensuring the company's fidelity to mission, strategy, and long-term goals.
Previously, Irma created 59DaysOfCode, a software development competition to highlight and encourage the Central Valley's tech industry. She co-founded Hashtag, an open workspace for designers, developers, and entrepreneurs to collaborate. And, she co-founded Edit LLC to solve efficiency and data issues in the agricultural industry.
About CITRIS Research Exchange:
Launched in 2008, CITRIS Research Exchange delivers fresh perspectives on information technology and society from distinguished academic, industry, and civic leaders. CITRIS Research Exchange is free and open to the public. Each one-hour seminar starts at 12 pm and is hosted at the Banatao Auditorium in Sutardja Dai Hall on the UC Berkeley campus unless otherwise noted. Register by the Monday prior to the event to receive lunch.
-------
Live broadcast at https://www.youtube.com/user/citrisuc/live
All talks may be viewed on our YouTube channel: https://www.youtube.com/user/citrisuc/playlists
Sign up to receive the latest news and updates from CITRIS: http://bit.ly/SubscribeCITRIS