About this Event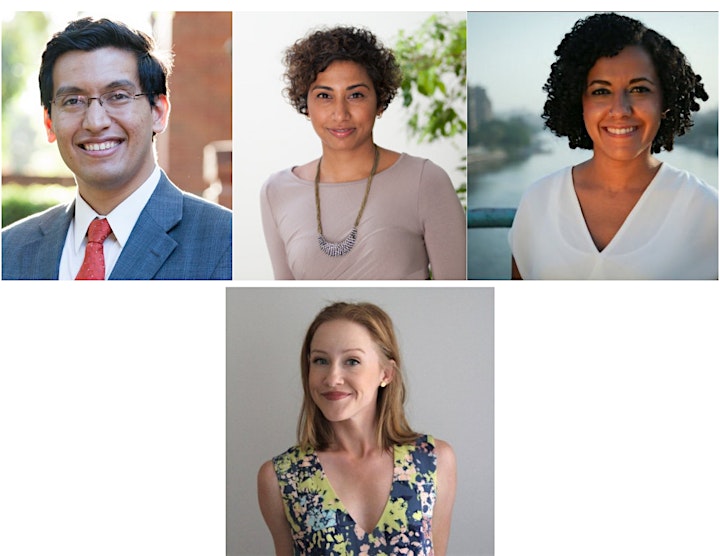 CITRIS Research Exchange - 5G, Tech and Policy Leaders
"The Future of 5G for California: Ensuring Equitable Access"
About the Panel:
5G wireless networks hold great potential, enabling unprecedented advancements in linking robots, cars, and other sensor-enabled technologies and infrastructure to revolutionize cities. While the future of smart cities may bring gains in sustainability, mobility, and economic opportunity, ensuring these benefits are felt by all community members remains a significant challenge. The panel explores emerging trends in 5G and provides recommended strategies to better ensure equitable deployments.
Speakers :
- Ernesto Falcon, Senior Legislative Counsel, Electronic Frontier Foundation
- Heba Gamal, Senior Director of Market Expansion and Growth, Common Networks
- Shireen Santosham, Chief Innovation Officer, San Jose Mayor's Office
Moderator:
Brandie Nonnecke, Director, CITRIS Policy Lab
Ernesto Falcon:
Falcon is legislative counsel at the Electronic Frontier Foundation (EFF), focusing on intellectual property and open Internet issues.
Prior to joining EFF, Ernesto worked as a legislative staffer for two Members of Congress from 2004 to 2010. He then became Vice President of Government Affairs at Public Knowledge (PK), where he advocated on behalf of consumers on copyright issues and broadband competition. During Falcon's tenure, Public Knowledge was successful in achieving one of the largest consumer victories in telecom policy by defeating AT&T's merger with T-Mobile. The following year, PK and EFF scored a major victory for consumers by rallying the Internet community to defeat the Stop Online Piracy Act (SOPA).
After eight years in Washington DC, Falcon returned to his home state of California to attend law school at McGeorge School of Law at University of the Pacific in order to strengthen his digital rights advocacy. Now an attorney, he is excited to rejoin the fight for consumers and Internet freedom.
Heba Gamal:
Heba Gamal is Senior Director of Market Expansion and Growth at Common Networks, a technology startup bringing high-speed Internet to suburban neighborhoods. In this role, she focuses on Common Network's market expansion strategy. Gamal has spent much of her career finding creative solutions to difficult challenges, from building a platform to connect like-minded changemakers or launching algorithmic improvements and features on Google Search to helping entrepreneurs scale their business in post-revolution Egypt.
Gamal's international expertise spans Silicon Valley, India, Eastern Europe, Africa and the Middle East. She has presented at various conferences and summits about entrepreneurship, technology and women in leadership.
Gamal received a BA from UC Santa Barbara. Read more here: https://www.linkedin.com/in/hebagamal/
Shireen Santosham:
Santosham is Chief Innovation Officer working with San Jose Mayor Sam Liccardo and leading efforts to build San Jose's "smart city" vision and strategy. Previously, she worked at the GSMA where she was a director in the Mobile for Development group aiming to close the digital divide for base-of-the-pyramid populations in the developing world through mobile technology and the Internet. She has extensive experience working on innovative initiatives across sectors, including working at McKinsey & Company, with international NGOs, and as an impact investor at Vulcan Capital.
Shireen holds a MBA from Harvard Business School and an MPA in International Development from Harvard's Kennedy School of Government. She serves as a term member on the Council on Foreign Relations.
Brandie Nonnecke:
Researching human rights at the intersection of law, policy, and emerging technologies, Nonnecke is the founding director of the CITRIS Policy Lab and also directs the CITRIS Tech for Social Good Program, both part of CITRIS and the Banatao Institute, headquartered at UC Berkeley. She is a Fellow at the Aspen Institute's Tech Policy Hub and at the World Economic Forum, where she serves on the Council on the Future of the Digital Economy and Society. Her current research focuses on human rights impacts of emerging technologies, addressing issues of fairness, accountability, and appropriate governance mechanisms. She was named a 2018 RightsCon Young Leader in Human Rights in Tech and received the 2019 Emerging Scholar Award at the 15th International Common Ground Conference on Technology, Knowledge, and Society. Her research has been featured in BBC News, MIT Technology Review, PC Mag, Buzzfeed News, Fortune, Mashable, and Stanford Social Innovation Review. Her op-eds and research publications are available at https://nonnecke.com/.
About the CITRIS Research Exchange:
Launched in 2008, CITRIS Research Exchange delivers fresh perspectives on information technology and society from distinguished academic, industry, and civic leaders. CITRIS Research Exchange is free and open to the public. Each one-hour seminar starts at 12 pm and is hosted at the Banatao Auditorium in Sutardja Dai Hall on the UC Berkeley campus unless otherwise noted. Register by the Monday prior to the event to receive lunch.
------
Live broadcast at https://www.youtube.com/user/citrisuc/live
All talks may be viewed on our YouTube channel: https://www.youtube.com/user/citrisuc/playlists
Sign up to receive the latest news and updates from CITRIS: http://bit.ly/SubscribeCITRIS