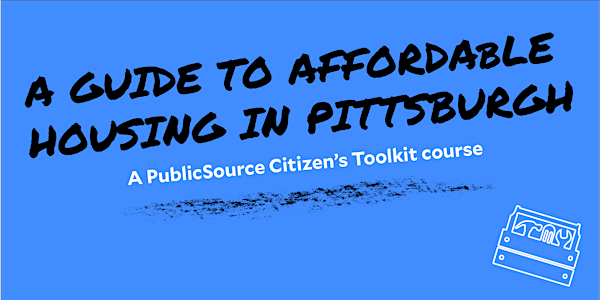 Citizen's Toolkit: A Guide to Affordable Housing in Pittsburgh
When and where
Location
Carnegie Library of Pittsburgh - Main (Oakland) 4400 Forbes Avenue Pittsburgh, PA 15213
Description
The term "affordable housing" is tossed around a lot in the Pittsburgh metropolitan area, but many discussions leave ambiguity about what the term actually means. Then there are terms like Section 8, public housing and "the projects" that further complicate the picture of the city's real and present housing crisis. In an effort to demystify this topic, PublicSource has teamed up with Carnegie Library of Pittsburgh to offer a two-hour course on affordable housing.
Join PublicSource contributor Meg St-Esprit to learn a condensed history of housing in Pittsburgh, the current concerns for affordability in the metro area and what options are available. You will also get a chance to learn about PublicSource's new initiative to cover ins and outs of development called Develop PGH.
Topics covered will include:
What does "affordable housing" mean?
What is the history of housing in Pittsburgh?
Who needs affordable housing the most?
What can the government do to secure affordable housing for those who need it?
What types of affordable housing options are available in Pittsburgh?
What barriers to affordable housing is the city facing?
What data do I need to know about housing in Pittsburgh?
Where can someone in need of affordable housing look?
How can I help fellow community members access affordable housing?
The session will include some time for discussion and Q&A.
This session will run at four locations around the city.
2 - 4 p.m. July 6, CLP - Main (Oakland) - 4400 Forbes Ave., Pittsburgh, PA 15213
6 - 8 p.m. July 15, CLP - Allegheny - 1230 Federal St., Pittsburgh, PA 15212
2 - 4 p.m. July 20, CLP - East Liberty - 130 S. Whitfield St., Pittsburgh, PA 15206
2 - 4 p.m. July 27, CLP - Carrick - 1811 Brownsville Road, Pittsburgh, PA 15210