Description
Photo Credit: Sea Education Association_Matt Ecklund
This workshop is made possible through funding from the Tampa Bay Estuary Program mini-grant which is made possible through the purchase of this specialty license plate: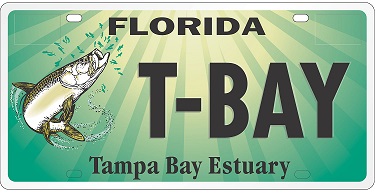 This workshop will begin with an optional tour of the South Cross Bayou Water Reclamation Facility that will run from 4:30-5:15pm. Following the optional tour, the actual workshop will begin at 5:30pm and run until about 7:30pm.
The workshop will begin with an introductory lesson on microplastics (what they are, where they come from, and most importantly, what we can do). We will then dive into some of the research about microplastics and the threats they pose to Tampa Bay and possibly human health. Then, for folks interested in learning how to get involved with the Florida Microplastic Awareness Project (a citizen science effort) they can stick around for a demonstration of water sample collection, filtering and analysis. You can start your citizen science efforts as soon as the workshop ends...it's that easy!
Plus, as part of the workshop, you will be asked to make a pledge to reduce your contribution to microplastics. If you complete the pledge and turn it in, you will receive a FREE GIFT (while supplies last) to help support you in your efforts. We can't give away any more details than that, but we hope you are interested enough to come and find out.
AGENDA
4:30-5:15pm

- Optional Tour of Water Reclamation Facility by Shea Dunifon, Education Coordinator, Pinellas County Utilities

5:30-6:00pm

- Introduction to Microplastics by Lara Milligan, Natural Resources Agent, UF/IFAS Extension Pinellas County

6:00-6:30pm

- The Research Behind Microplastics by Dr. Amy Siuda, Assistant Professor of Marine Science, Eckerd College

6:30-7:20pm

- Microplastic Sampling and Analysis Process

7:20-7:30pm

- Complete Pledges and Evaluations and End of Workshop
WHAT TO BRING
If you register for the optional tour of the reclamation facility, you MUST wear closed toe shoes

Pen and paper for taking notes

Jacket in case it is cold in the room (we don't have control over the temperature)

Snacks if you get hungry easily (you know who you are)

Reusable water bottle (promote what we preach)
QUESTIONS?
Please contact Lara Milligan at 727-453-6905
Partners for this workshop include UF/IFAS Extension Pinellas County, Eckerd College, and Pinellas County Utilities.