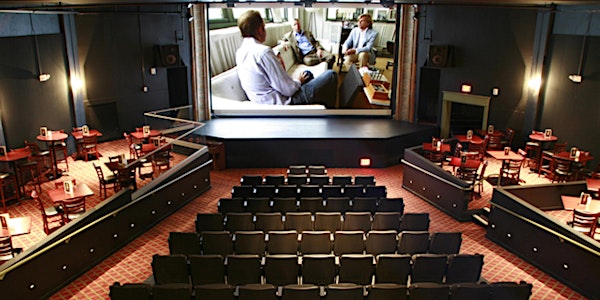 Citizen Jane Film Festival
Event Information
Location
Bijou Theatre
275 Fairfield Avenue
Bridgeport, CT 06604
Refund policy
Refunds up to 7 days before event
Description
Announcing the Citizen Jane Film Festival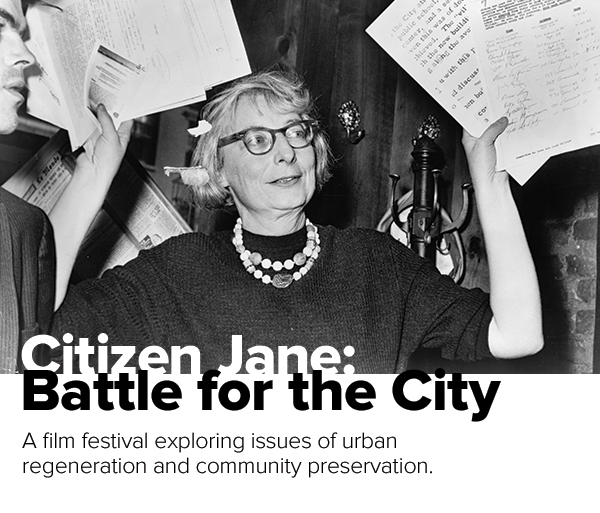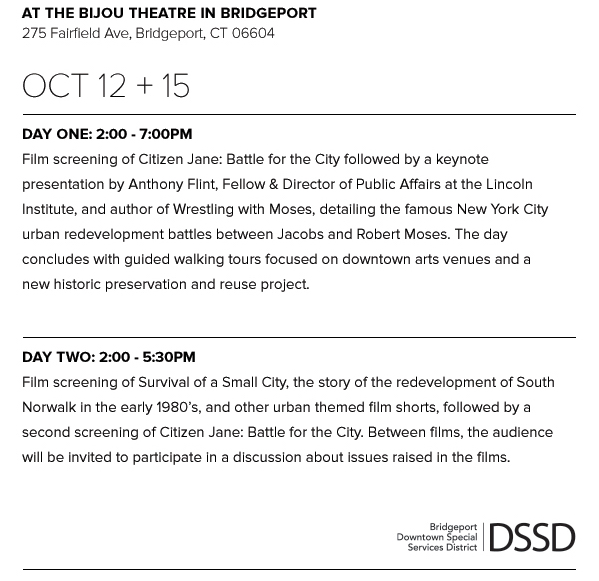 ---
---
---
AGENDA
PROFESSIONALS DAY - THURSDAY OCTOBER 12
2:00 pm: Registration
2:30 pm: Welcome, Kim Morque, Chairman of the Board of Commissioners for Bridgeport Downtown Special Services District
2:45 pm: Screening of Citizen Jane: Battle for the City
4:30 pm: Recognition of John Simone, founding director of Connecticut Main Street Center
4:45 pm: Reflections and Remarks by Anthony Flint, Fellow, Lincoln Institute and author of Wrestling with Moses
5:00 pm: Interview and Discussion with Anthony Flint: David Kooris, Director, Rebuild By Design & National Disaster Resilience
5:30 pm: Guided Walking Tours: Introduced by Wes Haynes, Connecticut Trust for Historic Preservation
- City Lights Gallery (Margaret Hiller) via Broad Street Steps (Painted Stairway artist Liz Squillace)
- McLevy Square Development (Forstone)


---
On Sunday morning, Oct 15, join Urban Bike Tours of Bridgeport for a free Citizen Jane Bike Tour, exploring the current state of bikeability in downtown Bridgeport. Meet 10:45am McLevy Green for registration. Finish the tour with lunch at Milano Wine Bar and Pizzeria (adjacent to the Bijou Theatre) at 1:20pm, in time for the start of the afternoon program at 2pm. Click for details.


---
CITIZENS DAY - SUNDAY OCTOBER 15
2:00 pm: Registration
2:15 pm: Welcome from Gemeem Davis, Communications Consultant, and Dean Mack, Planner, City of Bridgeport
2:30 pm: Survival of a Small City (1986, Nancy Salzer and Pablo Frasconi) 58 min. Urban Development in Norwalk.
- The Last Dance on the Main (2014, Aristofanis Soulikias) 4 min.
- The Park That Kids Built (1981, Linda Jassim) 19 min.
- How Public Spaces Make Cities Work (2014, TED Talk, Amanda Burden) 18 min.
- Transform Your City With Tactical Urbanism (2017, Clarence Eckerson) 8 min.
- Snowy Neckdowns Redux: Winter Traffic Calming (2011, Clarence Eckerson) 3 min.
- How to Revive Neighborhood (2015, TED Talk, Theaster Gates) 17 min.
4:45 pm: Discussion, moderated by Gemeem Davis & Dean Mack
5:30 pm: Citizen Jane: Battle for the City
---
DIRECTIONS AND PARKING
The Bijou Theatre is located at 275 Fairfield Avenue in Bridgeport, Connecticut directly off Exit 2 on Route 8. Route 8 runs between the turnpike (I-95) and parkway (Rt. 15) and we are halfway between Stamford and New Haven.
Ample safe and lighted parking is available in the Lafayette Square Parking Garage, across the street from the Bijou Theatre on Fairfield Avenue. Metered street parking is also available.
Location
Bijou Theatre
275 Fairfield Avenue
Bridgeport, CT 06604
Refund policy
Refunds up to 7 days before event