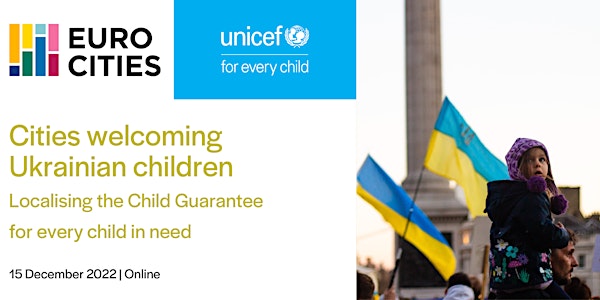 Cities Welcoming Ukrainian Children: Webinar #3
Cities Welcoming Ukrainian Children Webinar 3: Localising the Child Guarantee for every child in need
About this event
According to UNICEF's last report on the impact of the war in Ukraine, the conflict and the subsequent cost-of-living crisis have driven an additional four million children across Eastern Europe and Central Asia into poverty, a 19 per cent increase since 2021.
The third webinar on the frame of the Eurocities – UNICEF collaboration to support the integration of refugee children from Ukraine will take the form of a high-level dialogue between the European Commission, Members of the European Parliament (MEPs) and city leaders to ensure that the EU Child Guarantee will make a real difference at the local level for every child in need, including Ukrainian children.
In June 2021, the European Child Guarantee was adopted so that every child in Europe at risk of poverty or social exclusion has access to free healthcare, education, early childhood education and care, decent housing and adequate nutrition.
This is an instrument to strengthen systems and services to welcome into local communities and support refugee children and children displaced due to conflicts, including Ukrainian children. Children with migrant backgrounds and refugees need access to universal services as well as additional support services for their well-being and to facilitate their integration and inclusion in society.
Cities have been exploring local solutions to break the intergenerational cycle of poverty for many years. Now it is time to explore how we can use this instrument to welcome Ukrainian children into our local communities.
Objectives of the webinar
The webinar will emphasise the importance of having cities involved as key partners in the EU Child Guarantee and setting a common ground between cities and the EU institutions on the way forward to fight child poverty. The session will be a valuable exchange on concrete actions on how to extend the Child Guarantee to support services and systems that will tackle the exacerbation of the child poverty crisis for the most vulnerable and disadvantaged children.
The webinar will address three main questions:
What lessons can we learn from cities on what works to mitigate child poverty among migrants and refugee children?
How can we ensure the EU Child Guarantee makes a real difference for Ukrainian children in need arriving in our cities?
How can we prioritise investing in children as part of the recession context that Europe is facing?
Join this webinar and our initiative to better help the inclusion of Ukrainian children in our cities!
The webinar will be held on MS Teams. You will receive the link a few days before the event. Should you have any questions about the event or the registration, please contact Lia Barrese lia.barrese@eurocities.eu