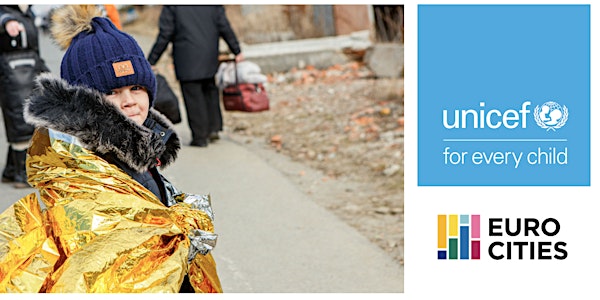 Cities Welcoming Ukrainian Children: Webinar #1
Cities welcoming Ukrainian children: promoting inclusive and responsive local learning environments
About this event
This is the first webinar on the frame of Eurocities – UNICEF collaboration to support the integration of refugee children from Ukraine will discuss one of the most pressing challenges that cities are currently facing: the integration of Ukrainian refugee children into their childcare and education systems.
The webinar will highlight the crucial role of local authorities in adapting their education and childcare systems with respect to three main points: learning, social, and emotional needs.
The webinar will build on the experiences from cities both in geographical proximity and further distance to Ukraine, highlighting practical examples that have been implemented to address this challenge. Before the cities' presentations, experts from UNICEF will contribute with insights from their expertise in the field and share their experience on how they assist cities with including Ukrainian refugee children in education systems.
What to expect:
To learn from other cities' initiatives in how they are adjusting their educative systems to welcome children from Ukraine
To hear UNICEF experts sharing their experience in the field and in supporting cities to scale up their childcare and education services.
To share your concerns in facing this common challenge and get some feedback from colleagues
To facilitate a valuable exchange between cities and UNICEF experts, therefore, cities are invited to come and share their questions.
Join this webinar and our initiative to better help the inclusion of Ukrainian children in our cities!
Should you have any questions about the event or the registration, please contact lia.barrese@eurocities.eu