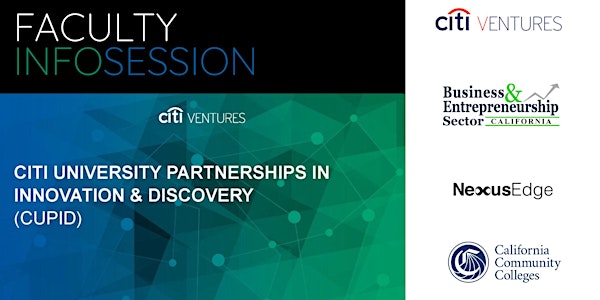 CitiBank/Citi Ventures Faculty InfoSession - CUPID Capstone Project
Experiential Learning. Real World. Right Now.
About this event
This InfoSession will provide details to faculty about the CitiBank/Citi Ventures Capstone Project (CUPID), and how to get student started in, selected for, and recognized in this incredible program. We will also share highlights and best practices.
If you are looking for an industry-relevant program that is easy to incorporate into lessons and assign, and is of the utmost benefit to students with professional development seminars and the chance to work on real projects for a global organization, be sure to attend on September 9th!
Audience: Faculty and administration from CA community colleges and high school dual enrollment/articulated courses.
**Registration works best on Chrome or Firefox browsers.**
Questions? Please contact:
Judy Fox, Regional Director, Business & Entrepreneurship Sector, Los Angeles Region | jfox@cerritos.edu