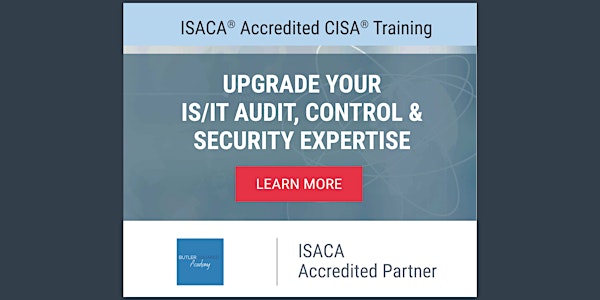 CISA - Certified Information System Auditor Training Bootcamp
Train with an Accredited Trainer Organization
Refund Policy
Contact the organizer to request a refund.
Eventbrite's fee is nonrefundable.
About this event
CISA is the globally recognized gold standard for IS audit, control, and assurance, in demand and valued by leading global brands. It's often a mandatory qualification for employment as an IT auditor. CISA holders have validated ability to apply a risk-based approach to planning, executing and reporting on audit engagements.
There are 150 Questions on the exam which must be completed in 4 hours. It is available online via remote proctoring and at in-person testing centers where available.
The CISA certification is intended for:
Early to mid-career professionals looking to gain recognition and enhanced credibility in interactions with internal and external stakeholders, regulators, and customers. Job roles include:
• IT Audit Directors/Managers/Consultants
• IT and Internal Auditors
• Compliance/Risk/Privacy Directors
• IT Directors/Managers/Consultants
Certified Information Systems Auditor (CISA) Training Course Prerequisites
IT professionals must have 5 years or more of IS audit, control, assurance and security experience.
4-day instructor-led training course
Official ISACA Curriculum
Exam voucher included with course tuition
One-on-one after course instructor coaching
Course Topics:
Domain 1: Information Systems Auditing Process
Planning
• IS Audit Standards, Guidelines and Codes of Ethics
• Business Proces Types of Controls
• Risk-based Audit Planning
• Types of Audits and Assessments
Execution
• Audit Project Management
• Sampling Methodology
• Audit Evidence Collection Techniques
• Data Analytics
• Reporting and Communication Techniques
• Quality Assurance and Improvement of the Audit Process
Domain 2: Governance and Management of IT
IT Governance and IT Strategy
• IT-related Frameworks
• IT Standards, Policies and Procedures
• Organizational Structure
• Enterprise Architecture
• Enterprise Risk Management
• Maturity Models
• Laws, Regulations and Industry Standards Affecting the Organization
IT Management
• IT Resource Management
• IT Service Provider Acquisition and Management
• IT Performance Monitoring and Reporting
• Quality Assurance and Quality Management of IT
Domain 3: Information Systems Acquisition, Development and Implementation
Information Systems Acquisition and Development
• Project Governance and Management
• Business Case and Feasibility Analysis
• System Development Methodologies
• Control Identification and Design
Information Systems Implementation
• Testing Methodologies
• Configuration and Release Management
• System Migration, Infrastructure Deployment and Data Conversion
• Post-implementation Review
Domain 4: Information Systems Operations and Business Resilience
Information Systems Operations
• Common Technology Components
• IT Asset Management
• Job Scheduling and Production Process Automation
• System Interfaces
• End-user Computing
• Data Governance
• Systems Performance Management
• Problem and Incident Management
• Change, Configuration, Release and Patch Management
• IT Service Level Management
• Database Management
Business Resilience
• Business Impact Analysis
• System Resiliency
• Data Backup, Storage and Restoration
• Business Continuity Plan
• Disaster Recovery Plans
Domain 5: Protection of Information Assets
Information Asset Security Frameworks, Standards and Guidelines
• Privacy Principles
• Physical Access and Environmental Controls
• Identity and Access Management
• Network and End-point Security
• Data Classification
• Data Encryption and Encryption-related Techniques
• Public Key Infrastructure
• Web-based Communication Technologies
• Virtualized Environments
• Mobile, Wireless and Internet-of-things Devices
Security Event Management
• Security Awareness Training and Programs
• Information System Attack Methods and Techniques
• Security Testing Tools and Techniques
• Security Monitoring Tools and Techniques
• Incident Response Management
• Evidence Collection and Forensics