Your Favorite Party + Your Favorite City + on Your Favorite Weekend is BACK!
About this event
---Early Bird GA & VIP Sold Out---
#CirocTheBoatMiami 4th Annual
ALL-WHITE YACHT PARTY & AFTER-PARTY!!
MEMORIAL WEEKEND 2021!
DATE: Saturday May 29th
ADDRESS: 301 Bayfront Park North Biscayne Drive MIAMI, FL
TIME:
Pre Game Boarding Party @ 830pm
Departs @ 930pm
Returns @ 130am
DRESS CODE: White Night Life Attire Preferred! Not mandatory.
COMPLIMENTARY DRINKS: During First hour. Cash Bar all night.
FOOD: Complimentary BREAKFAST BUFFETT
COST: $99 for Yacht Party & After- Party (TBA)
VIP: $499-$849-$1299 (Bottles, Waitress, Reserved BOOTH/CABANA, Priority Express Boarding)
AGES: 21+ (Must Have ID)
MUSIC: Hip Hop, R&B, Top 40, Reggae, etc.
CONTACT INFO: 786-254-6472, 404-9576-6492, 256-466-9520
OFFICIAL AFTER-PARTY: TBA (After-Party Access with Yacht Party Wristband)
POWERED BY: @MixBoyEnt, @ImJust_Nic , @FlightCrewEvents, @t21SweetBoyz, #London2Miami, @PassPortValid
MUSIC BY: @DirtyAnt, & the rest of the ALL STAR Dj Cast
FOLLOW US ON IG: @FlightCrewEvents, @MixBoyEnt, @DirtyAnt @BigCKelly, @Klark___Kent @ImJust_Nic
JOIN THE GROUP " 🏝HEADED 2 MIAMI MEMORIAL WEEKEND 2021🌴" on GroupMe. https://app.groupme.com/join_group/67312604/XAjuAlFt Headed2Miami.com***
------------------------------------------------------------------------------------------
FAQs
Where do I park?
Public parking is at Bayside Marketplace .
Where is the Yacht docked?
Beside the Ferris Wheel
What are my transportation options for getting to and from the event?
Feel free to drive but UBER/LYFT is a great option to avoid traffic and parking confusion. DON'T BE LATE.
Can we SMOKE on the boat or bring our own liquor on the BOAT?
NO. Finish all of that before you walk on the boat. No pressure or rush...just can't bring it on.
What can I bring into the event?
Ladies small hand bags.
How can I contact the organizer with any questions?
Feel Free to call/text 256-466-9520, 256-566-5715, or email mixboyent@gmail.com
What's the refund policy?
No online refunds. Contact event organizer if you have further questions
Do I have to bring my printed ticket to the event?
You can use printed ticket or digital ticket on your phone.
WILL MY YACHT PARTY WRISTBAND GET ME IN TO THE AFTER-PARTY?
Yes! But you must keep the wristband on! There will be FREE entry or (small fee) depending on which After Party you choose to attend.
WILL THE BOAT WAIT ON ME IF I AM RUNNING LATE?
NO. Sorry...its a Boat..not a club. It will float away.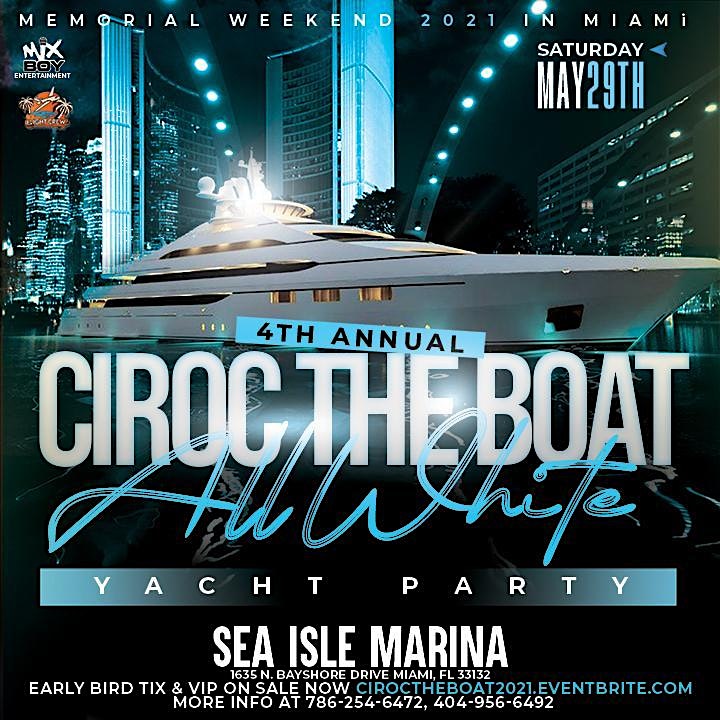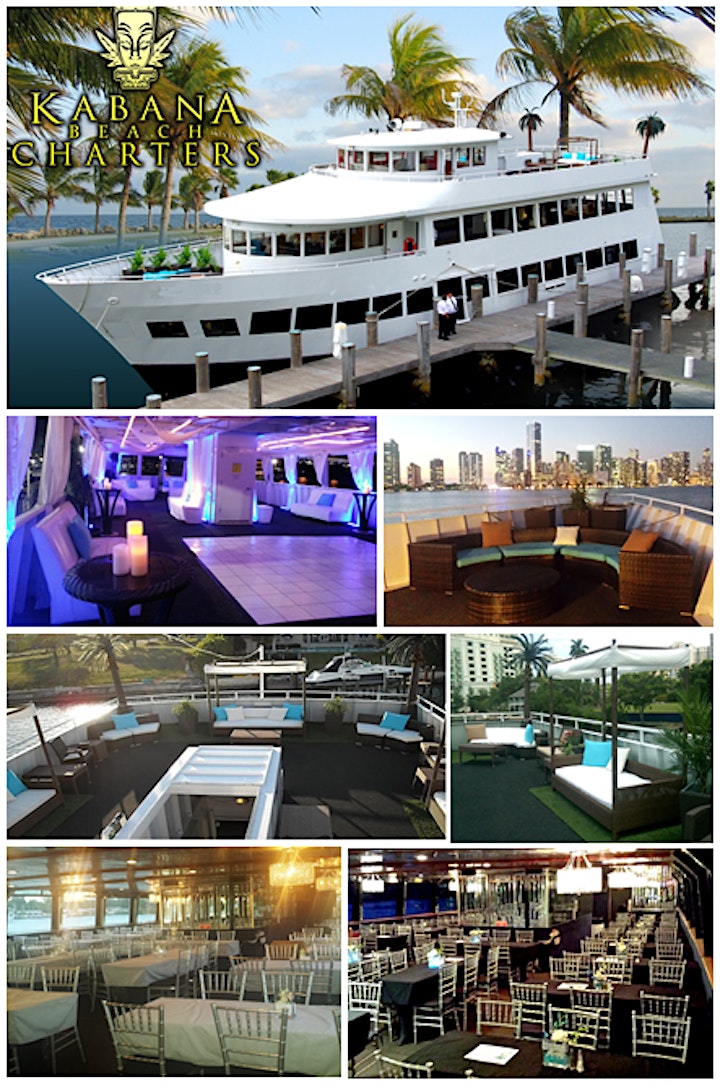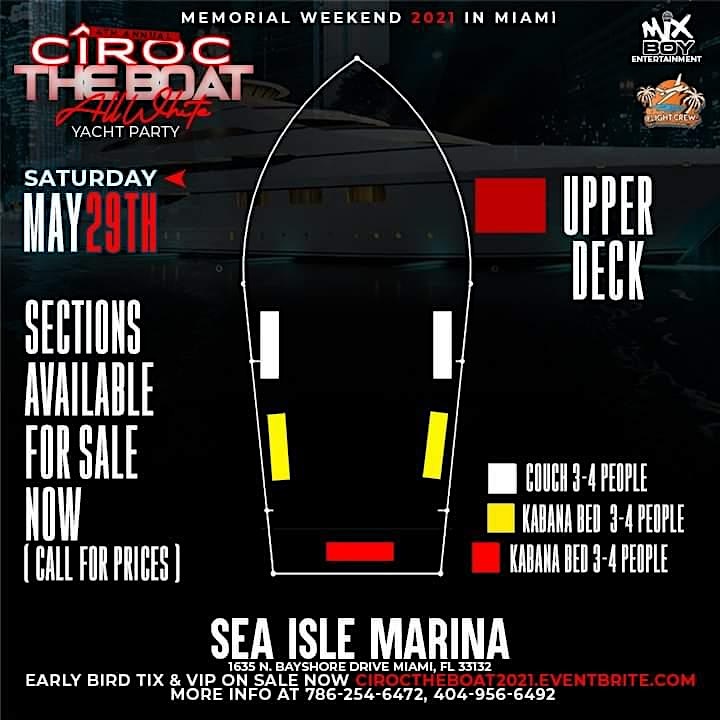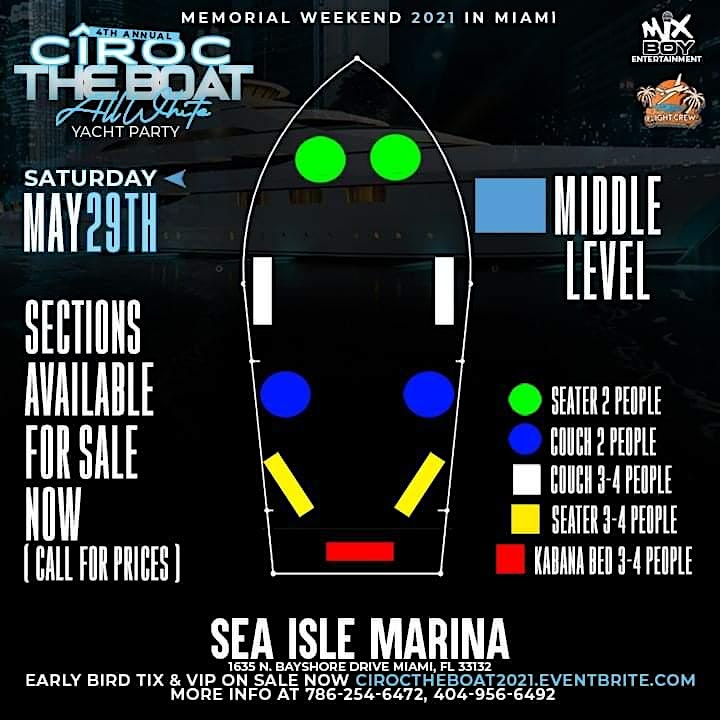 VIP SECTIONS AVAILALBE NOW!