Description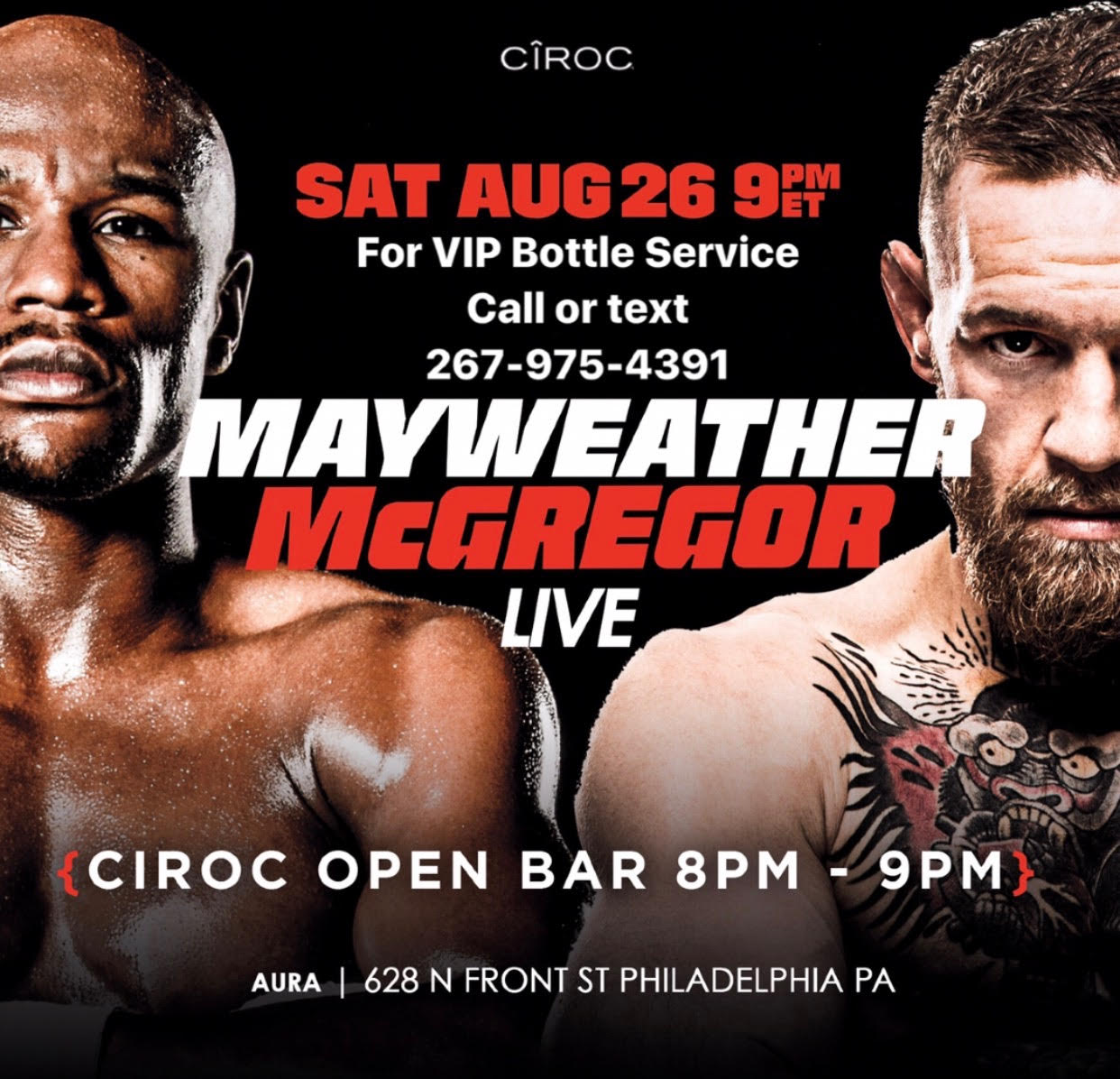 CÎROC® FIGHT NITE/ Floyd " Money" Mayweather vs. Conner McGregor LIVE • Aura [PHL] 8.26.17 Cocktail Reception: Premium Open Bar 8pm-9pm
• 8.26.17 CÎROC® VODKA Signature Event
Featuring Mayweather vs. McGregor Live
Presented by Ciroc® & Aura Lounge / Doors Open at 8:00pm
CÎROC® Fight Nite –
On Saturday August 26 Aura celebrates two of our generation's most box office attractive figures as two sports go head to head when Floyd Money Mayweather takes on MMA's Conner McGregor. Saturday August 26 CÎROC one of the world's number best VODKA brand joins us to host our Mega Fight Signature Event. We cordially invite you to be apart of this highly anticipated evening featuring premium vodka, and this year's biggest Pay-Per-View event Featured in surround sound on All 50' HD Screens Floyd Mayweather vs. Conner McGregor live!
Aura Saturdays– 2nd Level
There are so many different personalities in Philadelphia's nightlife, and they speak to all sorts of people. These are people that have been craving a need for something creative, something trendy, and something new. Well the search is over! Your desires and needs shall be satisfied. Join us each and every Saturday night for an experience to be remembered, and be apart of a select group chosen to partake in yet another movement Aura!
w. Aura Restaurant & Lounge, CÎROC® VODKA
w. $25 advanced VIP Ticket
w. Floyd Mayweather vs Conner McGregor LIVE
w. Coco's Chicken & Waffles Menu Available All Night
w. CÎROC® Open Bar 8p-9p
w. CÎROC® VIP cocktail sampling 8pm-10pm while supplies last
w. $350 CIROC MMA Package 1 Ciroc 1 Belaire Rose with elevated VIP Booth Seating w Personal TV
w. $550 CIROC TheMoneyTeam Package 2 Ciroc 1 Belaire Rose with elevated VIP Booth Seating w Personal TV
w. AURA @ 628 N Front Street. Philadelphia, PA 19123
w. Advanced VIP Bottle Service suggested with personal VIP booth and private TV
w. Your Finest Attire is Requested Absolutely No Sneakers will be permitted.
Call/Text, 267-975-4391 or email auraloungephl@gmail.com for questions pertaining our complimentary birthday party packages or discounted bottle service.