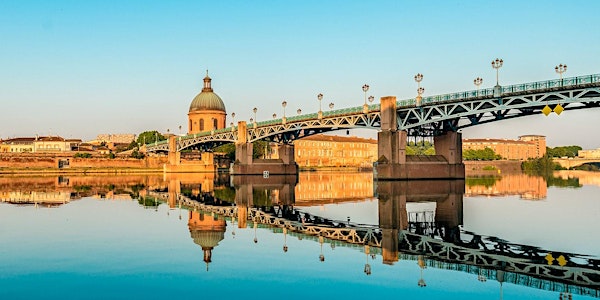 CIRN meeting 2019
When and where
Location
Observatoire Midi-Pyrénées (OMP) - LEGOS 14 Avenue Edouard Belin 31400 Toulouse France
Description
This year, the Coastal Imaging Research Network Boot Camp and Workshop will be held back-to-back at the Laboratoire d'Etudes en Géophysique et Océanographie Spatiales, in Toulouse, France. There is a no cost to attend the instructional boot camp part of the week (June 17-18), CoastSnap Users Meeting (June 18), or the subsequent 2019 Workshop (June 19-21). See descriptions of both events below. Registration is required to attend either of the events.
Bootcamp: June 17-18, 2019
The boot camp (June 17-18) will provide both the background and hands-on experience in working with coastal imaging for new users. Attendees will work with image data of the surf-zone and learn how to process and analyze the data using the UAV and cBathy toolboxes. Concurrent boot camp sessions will also include the CoastSnap Users Meeting on June 18. Additional advanced boot camp topics will be added in the coming weeks.
The basic boot camp will cover the development of coastal imaging, cameras and photogrammetry, lens distortion, UAV/single camera collection methods, sampling from video streams, solution methods for image geometry, common image products, and nearshore data analysis with imagery.
Technical Requirements for boot camp: Attendees are expected to be competent with MATLAB and need to bring their own laptops loaded with MATLAB and the MATLAB Statistics and Machine Learning toolbox. The boot camp will utilize the CIRN UAV Toolbox and the cBathy Toolbox. Both are available here (https://coastal-imaging-research-network.github.io) and should be downloaded and tested before the workshop.
Workshop:

June 19-21, 2019

The workshop (June 19-21) will focus on showcasing innovative research on Argus/coastal imaging systems and coastal imaging tools utilizing remotely sensed observations. Those wishing to present, please submit your talk to https://forms.gle/LbZ5spfL9PZChPUD7 before May 31.


You possibly want to extend your stay to the 22nd as in the evening of the 21st of June, the nationwide "Fete de la Musique" will be held in Toulouse including numerous free concerts.
Directions:
By aeroplane: Toulouse is accessible by flying into Toulouse Blagnac Airport (TLS - LFBO). Transportation options for getting from the airport to downtown Toulouse include rental car, tramway, airport shuttle (Navette), Uber/Lyft, or taxi. Preferable options are the tramway (30 min to the centre - ~1,50 euros) or navette (15 min to the centre - ~8 euros). Taxis are in the order of 30-40 euros and Uber generally costs max 13-15 euros to get to the centre.
Toulouse is a very walkable city and there are many public transportation options (bus, tram and metro, including a bike rental/share "VeloToulouse" program (first 30 minutes are always free: http://www.velo.toulouse.fr/ [ website is in French, don't worry, the terminals are in French, English and Spanish]).
To get from the centre of town to the conference venue at OMP-LEGOS take metro line B direction « Ramonville » until station « Faculté de Pharmacie »
Take bus n°78 direction « Saint Orens Lycée » and get off at the stop « CNES-FIAS »
Please keep in mind, there is limited parking OMP-LEGOS.
Hotels:
Among all the available hotels we can suggest 3 hotels in the centre of Toulouse with which we negotiated a discounted price. To get the discounted price use the discount-code: CIRN2019 on the website: https://hotel-oursblanc.com/. All hotels are part of "Ours Blanc" and they come in different *-classes:
2* hotel - 88,88 euros per night
3* hotel - 111,32 euros per night
4* hotel - 130,42 euros per night.
Bear in mind that at the end of that week (June 21) "Fete de la Musique" starts with a certain influx of people to the city affecting the hotel room availability.
Food:
Coffee, tea and lunch will be provided, dinner is not included.


Draft Boot Camp Agenda (subject to change)
Monday, June 17, 2019
8:00

Coffee and snacks
8:30 Welcome, goals, and logistics
8:40

Welcome to LEGOS
8:45

B

ackground and History of Argus
9:10

CIRN - now and future plans
Nearshore Imaging
9:15 How cameras work
9:50

Camera model and homogeneous coordinates
10:35 Coffee Break
11:00

Lens distortion
11:30

PRACTICUM – UAV Lens Calibration
11:50 Calibration demo
12:30

Working Lunch
12:45

GitHub demo/Introduction to CIRN Wiki
1:35

Geometry solution approaches
2:15

PRACTICUM – Solving UAV geometries
2:55 Virtual GCPs
3:15

Coffee Break
3:30

Optical imaging of the air-sea interface
3:45

Data archiving and naming conventions and organizing our lab datasets
4:05

Extracting frames from a video (mplayer and Matlab methods)
4:25

Rectification and merges
4:45

PRACTICUM – make a rectification, use the GitHub desktop GUI
5:45

Closing thoughts
Tuesday, June 18, 2019
Nearshore Imaging (concurrent session with CoastSnap)
8:00 Coffee and snacks
8:30

Image Products (Timex, bright, etc)
9:10 Pixel time series and pixel tools
10:15

Coffee Break
10:30

PRACTICUM – designing and extracting Argus products from a UAV video
12:00

Lunch
12:50

Group photo
cBathy (concurrent session with CoastSnap)
1:00 History of depth inversions
1:35

The cBathy algorithm
3:00

cBathy debugging capabilities
3:00

PRACTICUM – cBathy analysis from UAV data
3:30

Working Coffee Break
5:45

Closing comments
CoastSnap (concurrent session with Nearshore Imaging and cBathy)
presentations on existing CoastSnap sites (results and lessons learnt)

users workshop on CoastSnap data processing

discussion on future directions of CoastSnap