Circus PAWS - Sunday 7 PM + VIP

Sunday, September 30, 2012 at 7:00 PM (PDT)
Event Details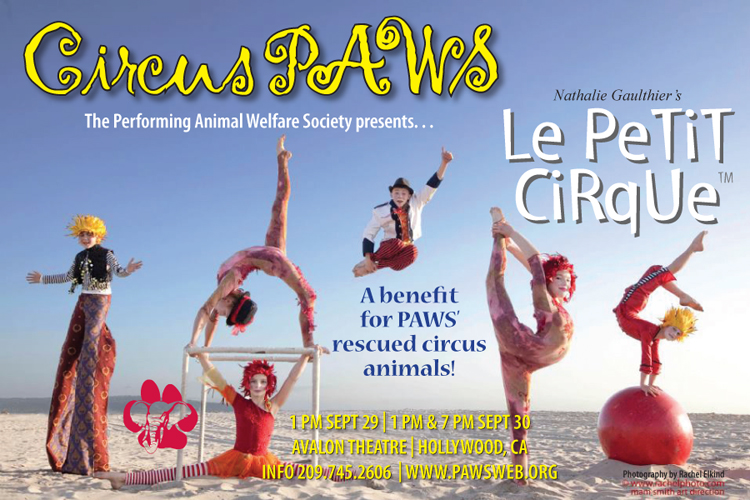 CIRCUS PAWS — a magical land where the child in each of us is set free to explore the possibilities of our imagination. Experience a world-class, animal-free, professional circus featuring a troupe of young professionals who will amaze and astound you! 
Le PeTiT CiRqUe is a troupe of kids, ages 6-14, who rank among the top in the country in aerial arts, juggling, trapeze, hoops, silks, acrobatics, stilts, skateboards, contortionists, and martial arts. They have mesmerized audiences worldwide — selling out shows, wowing audiences, and making the impossible look easy. . . a pint-sized version of "Cirque du Soleil meets Marcel Marceau."
All proceeds go to benefit rescued and retired circus animals living at the Performing Animal Welfare Society's ARK 2000 wildlife sanctuary in San Andreas, CA. ARK 2000 is home to elephants, bears, lions and tigers.
Sunday evening's show begins at 7 p.m.
Doors open 30 minutes prior to show time.
Box office opens 1 hour before the event.
General Admission Tickets
$79.00 adults*
$49.00 children 12 and under*
VIP Tickets + Reception (see below)
$150.00 adults*
$95.00 children 12 and under*
                *plus ticketing agency fees.
Sunday VIP Reception+Show
PAWS will be hosting a special pre-show VIP reception at the theatre starting at 5:30 p.m. A limited number of tickets are available.
VIP ticket price includes:
VIP Reception. Light refreshments will be served.
The opportunity to meet PAWS' co-founders Pat Derby and Ed Stewart, as well as the performers and surprise guests.
Preferred seating for the evening's performance. 
"Le PeTiT CiRqUe is magical and entertaining — further proof that a circus needs no animal performers to be spectacular!"
- BOB BARKER
When & Where

Avalon Hollywood
1735 Vine St
Hollywood, CA 90028


Sunday, September 30, 2012 at 7:00 PM (PDT)
Add to my calendar
Organizer
Since 1984, The Performing Animal Welfare Society (PAWS) has been at the forefront of efforts to rescue and provide appropriate, humane sanctuary for animals who have been the victims of the exotic and performing animal trades. PAWS investigates reports of abused performing and exotic animals, documents cruelty and assists in investigations and prosecutions by regulatory agencies to alleviate the suffering of captive wildlife.
At PAWS' sanctuaries, rescued and retired animals live in peaceful natural habitats, free from fear, chains, and harsh confinement. They are at complete liberty to act out natural behaviors in the comfort of their individually designed enclosures.
PAWS' animals are not bred, traded, sold, rented or forced to perform in any way. PAWS educates the entertainment industry, public officials and the general public in humane care and treatment of captive wildlife.
PAWS operates three wildlife sanctuaries in Northern California: the original 30-acre PAWS sanctuary in Galt, CA; the 100-acre Amanda Blake Memorial Wildlife Refuge in Herald, CA; and ARK 2000, a 2,300 acre sanctuary in San Andreas, CA.