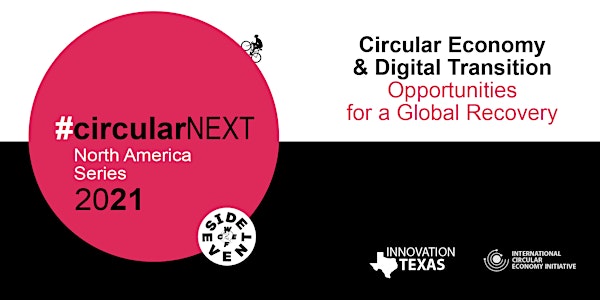 #circularNEXT North America Series Kickoff & Episode 1
Two Global Trends Collide to Build Back Better our Economies: The Digital Transformation and the Circular Economy Transition. Join Us!
About this event
A Digital transformation was well on its way before COVID19 hit. With the global Lock-downs this trend has just accelerated. The Circular Economy is the way to reset our economies, create new jobs, and tackle the climate crisis.
The mix of conditions for scalability have never been better. The European Green Deal and the new Biden agenda to address the Climate Crisis, will benefit enormously from Ai, Blockchain, IoT, Edge Computing and other technologies as drivers to disrupt linear models and innovate towards promoting a just transition to an inclusive Circular Economy.
This is the first of our monthly #circularNEXT North America Series. An official side event building the conversation towards the World Circular Economy Forum from September 13-15 in Toronto Canada
PROGRAM (All times are CST)
9.00AM
Welcome Remarks & Launch ICE Initiative
Humberto Olivo – President Innovation Texas, North America Circular Hotspot - Texas
Ariel Viosca – Co-Founder International Circular Economy Initiative (ICE) - Mexico
Erica Berg - World Circular Economy Forum at Environment and Climate Change Canada
9.10AM
KEYNOTE
Aligning the Green and Digital Transitions
Annika Hedberg – Head of Programme | European Policy Centre
9.30AM
PANEL #1
Why Digital and Circular Now? Opportunities for a Global Recovery
Katherine Whalen - Founder of Getting in the Loop. Research Institutes of Sweden RISE - Sweden
Elin Bergman - Co-Founder Nordic Circular Hotspot - Sweden
Walter Stahel - Founder & Director The Product-Life Institute Geneva and renowned best selling author - Switzerland
Paul Shorthouse - Managing Director, Circular Economy Leadership Coalition - Canada
Beatriz Luz - Founder & CEO Exchange for Change Brazil and Leader of the Brazilian Circular Economy Hub - Brasil
10.30AM
PANEL #2
Circular Economy Transition. Technology and Data Driven
Linn Lindfred - Founder of Circularista AB and Circular Economy and Sustainable Innovation at Jayway by Devoteam - Sweden
Jennifer Von Der Heydt - Founder & CEO loop-it - Sweden
Ditte Lysgaard Vind - Managing Partner LENDAGER, The Circular Way - Denmark
Annika Hedberg – Head of Programme | European Policy Centre - Brussels
Saman Sarbazvatan - Associate Dean & COO, Ecole des Ponts Business School, Circular Economy Research Center - Paris