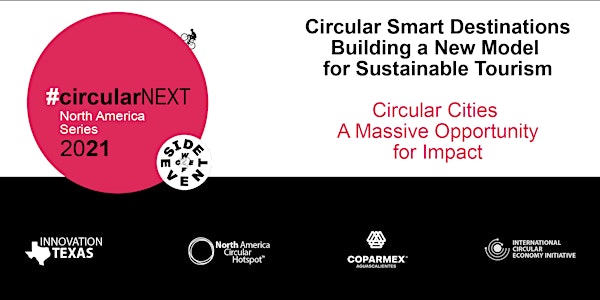 #circularNEXT North America Series Episode 6
The Global Tourism Industry is facing an unprecedented crisis. The Circular Economy can help Destinations recover and create new jobs.
About this event
This is the Episode 6 in the #circularNEXT North America Series.
The tourism industry is deeply interlinked with and dependent on multiple key resource flows, asset and commodity value chains in society – from agriculture to food, to the built environment and transport industries to name a few. Travel and tourism actors can act as powerful enablers of circularity and benefit from shared circular value creation and value capture within relevant value chains.
From Smart Destinations we need to move to Circular Smart Destinations. Using Ai, Blockchain, IoT and Open Source Technologies, we can design more circular, sustainable, resilient and inclusive destinations.
Join us to hear about experiences and new circular models from some of the great destinations in the world. Let's Build Back Better together!